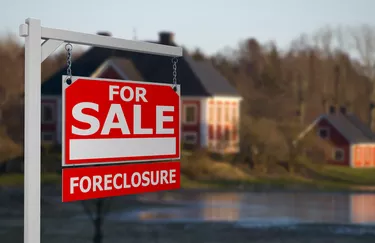 Buying a Federal National Mortgage Association foreclosure doesn't have to be daunting, as many steps are similar to buying a non-foreclosed home. According to the author of "The Complete Guide to Investing in Foreclosures," anyone who can obtain the financing needed to purchase a Fannie Mae foreclosure can buy one. Any licensed real estate agent can assist you in submitting your offer to the property's listing agent.
Prequalification and Property Search
Just as when attempting to purchase a non-foreclosed home, you must provide documentation to Fannie Mae that you can pay for the house. You can do this by obtaining a prequalification or preapproval letter from your lender. Based on the prequalified amount, search for foreclosures on Fannie Mae's home-search website, which as of 2015 goes by the name HomePath. There, look for foreclosed properties by price, location and number of bedrooms and bathrooms. You can also map out the search results and click on interested properties. Additionally check a home's status, such as "Just Listed," and property type, such as "Single Family" or "Condo/Co-op."
Fannie Mae Financing
Each Fannie Mae listing should display the financing programs associated with it. As of the date of publication, Fannie Mae has undergone major changes in its financing offerings from previous years. It no longer offers loan programs through HomePath mortgages or HomePath renovation mortgages. However, you can inquire into Fannie Mae's 97 percent loan-to-value mortgage, which allows first-time home buyers to put down as little as 3 percent. You can also ask your state or local housing authority to help finance your down payment and other purchase costs through HUD's Neighborhood Stabilization Program.
Submitting Your Offer
If you find a foreclosure that you like and want to make an offer, you must follow procedures similar to making an offer on a non-foreclosed home. You need a standard real estate contract as provided by your real estate agent, as well as a Fannie Mae real estate purchase addendum. You can submit your offer online through the HomePath website. Just make sure your offer is complete and no required information is missing, including your "highest and best" offer. Fannie Mae may accept, reject or counter your offer.
Further Negotiation
According to real estate company Bama Homes, Fannie Mae will negotiate with a buyer, but only up to a point. While Fannie Mae generally sells homes at between 92 and 100 percent of the asking price, you must negotiate to take off 8 percent from the price. If two people want to purchase the foreclosure at the same time, Fannie Mae will stop negotiating and only accept each party's "highest and best offer." If you face a bidding war with multiple buyers, your offer should exceed the asking price to increase your odds of acceptance.