A foreclosed property can be a great investment. Not only can you find deals on properties that would normally be above your price range, but you can often make a few changes and sell the property later at a higher rate. For this reason, foreclosed homes are popular with investors, but this doesn't mean the casual buyer is out of the running. Some financial institutions first open offers to buyers who plan to make the foreclosed home a primary residence. Whether you're buying a home as an investor or consumer, though, you may find that some lenders are skittish about lending money on a foreclosure. The good news is that you may be able to find funding from other sources for your foreclosure purchase.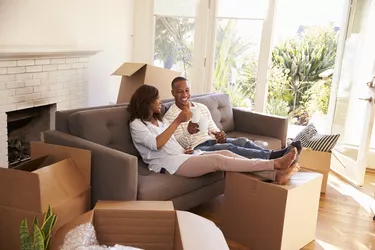 What You Need to Know
If you plan to take advantage of a grant, there are some things you need to know before you start shopping. The grants that are available usually apply specifically to homes in low-income or rural areas. There's a reason for that. Government agencies and nonprofits are incentivized to encourage development in these areas. A foreclosure in a neighborhood with million-dollar properties doesn't bring the same invitation for improvement as a foreclosed home in a disadvantaged area of town. By offering grants, agencies and nonprofits can encourage development and improvement, which will, in turn, raise property values and may bring in shops, restaurants and other amenities.
National Programs
If you are a teacher, firefighter, police officer or emergency medical technician, you may qualify for a grant through the Good Neighbor Next Door program. This program offers homes to these professionals at half off the listing price, provided the resident commits to having the home as a sole residence for at least 36 months. Homes are in areas the government has identified as needing revitalization. A listing of available homes in each area is available on the HUD website.
Grants are also available through the Neighborhood Assistance Corporation of America, which seeks to build healthy neighborhoods. The NACA Purchase Program helps low- to moderate-income households get housing in specific communities. Not only can individuals obtain mortgages through this nonprofit, but NACA also provides housing counseling.
Local Programs
On a local level, there are also agencies and nonprofits willing to help residents buy foreclosed properties. For example, the New Jersey Housing Resource Center offers a searchable database of affordable housing throughout the state. The agency also offers $10,000 to first-time home buyers to purchase homes in certain counties.
New Jersey isn't the only state offering down-payment assistance on homes. Many states have housing offices that specialize in pairing residents with homes in emerging areas. In addition to down-payment assistance, these programs also offer no-down-payment loans. It's important to note that many of these programs are geared toward first-time home buyers, however.