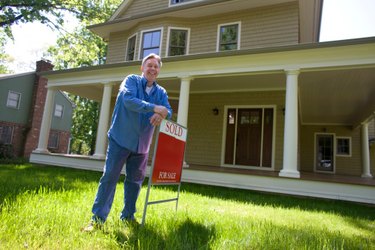 You don't need to be a multimillionaire to get a piece of the real estate pie. While not everyone can afford to sink money into an extra income property, everyone from real estate agents to small-time investors can set goals to get the most out of the market. Just be realistic about what you can afford to spend.
Sell More Homes
If you're a real estate agent, your obvious goal is to increase sales. The challenge is figuring out how to set reasonable targets and motivate yourself. In his 2004 article "Sales Coach: Go for the Goals" for "Realtor Mag," writer John D. Mayfield suggests speaking with colleagues, assessing market conditions and considering the impact of personal events, such as the birth of a child, when setting personal sales targets. He also suggests giving your objective a timeline and operationalizing high-level goals. For example, if you want to get three more listings in the next month and you use a combination of cold calling and direct mailers to generate business, estimate the number of new clients you get from these marketing efforts to determine how much promotion you need to do to hit your target. The "Realtor Mag" article "5 Questions to Ask in Setting Sales Goals" suggests looking at your average number of closed transactions during the last two years to set aggressive, yet realistic goals.
Speculate and Profit
If you have money to sink into a house of your own, profit in the long term by buying in an area where real estate is expected to appreciate considerably during the next few years. Taking advantage of foreclosures allows you to buy into a neighborhood you couldn't otherwise afford. If you plan to live in the home yourself, there's no rush to resell if the market in your area is slow. You can sit back for a few years and wait for the market to rebound. If you're looking internationally, an April 2011 blog post on Forbes.com by Kenneth Rapoza suggests Moscow, Shanghai, Mumbai and São Paulo are the places to buy. Property values in these cities are expected to increase into the 2020s.
Do the Flip
If you're looking to make a quick buck by buying a house and flipping it, be conservative in your goal setting. Whether you're buying a foreclosed home or a fixer-upper, visit the county assessor's office to get an estimate of what the house will be worth when you resell. That information will help you decide how soon you need to get the house off your hands to turn a profit. According to the Bankrate.com article "Flipping Houses is Harder Thank it Looks," you need to consider the cost of hanging on to the house for at least three months, because anti-flipping regulations prevent quicker sales. Then there are taxes and the pre-payment penalties associated with paying back your mortgage early after selling a flipped house. To get the most out of a flip, HGTV suggests setting well-researched goals. Buy in an up-and-coming neighborhood, leave room for hidden costs, get a home inspection and target your renovations to fit a certain buyer profile.
Investing in REITs
If you don't have much to invest, work to meet your investment goals by putting money into a real estate investment trust (REIT). When you invest in these equities, your cash is pooled with that of other investors to buy properties. With REITs, you can make money in real estate without the significant capital costs of buying on your own.