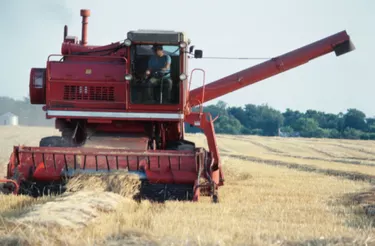 In some cases, renting farmland is better than owning. For example, you might not want to buy farmland if you only want to farm a very small amount or if you aren't sure you want to transition into the farming industry. Of course, to rent farmland, you first have to find agricultural land available through rental contracts. The easiest way to do this is to network in your community, but local organizations, government agencies and websites also help.
Step 1
Contact local farmers in your region and ask if they have land they would be willing to rent. A great way to connect is to go to local farmer's markets and school and community 4-H programs, although you also can get information through other local farmer's and agricultural associations. Farmers with families may be more willing to rent, as it means stable income with less work.
Step 2
Talk to professionals in your area that are related to real estate and agriculture. These include but are not limited to insurance representatives, real estate agents, co-op operators, farm equipment repairers and suppliers, lenders such as banks and appraisers. Ask them if they know of anyone who would be willing to rent to you.
Step 3
Investigate postings on websites that list land available for rent (see Resources). Some websites allow you to submit a post indicating your desire to rent. There also are programs through the International Farm Transition Network that link farmers with renters, as found on Beginningfarmers.org.
Step 4
Place an advertisement in your local newspaper saying you need farmland to rent, or look through the classifieds to find rental offers from farmers.
Step 5
Go to your local courthouse. Look through public records related to real estate. These records can tell you property lines and ownership, which gives you a good idea of what farmland is in your area. The probate court also can help, as it has information about land that might be coming up in estate auctions or that is transferring to someone who would rent to you. Many heirs consider rental if they want to keep the farmland but know they can't afford to farm it themselves.
Step 6
Check your local chamber of commerce. The chamber often has listings of businesses and nonprofits. Some of these may be farm-related, so you may get an idea of different businesses that have land available.
Step 7
Look on your state's website for unclaimed property and auctions. Even though you aren't looking to buy, awareness of these properties and auctions gives you some information about who to approach with a rental proposal.