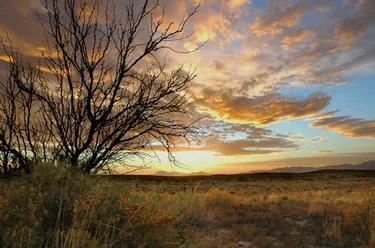 Are there free houses in New Mexico? Not really, but there are both abandoned land and property. Someone owns every acre of land in this country, whether it be a private individual, government entity, company, a Native American tribe or a developer. Still, just because the land is owned, that does not mean that it is being used.
Abandoned Land for Sale in New Mexico
Each year, the New Mexico Taxation and Revenue Department publishes a list of unclaimed property in newspapers around the state. This generally happens in October, the state explains. You can keep an eye out for this list and act quickly if you see a property you are interested in.
Beyond this, New Mexico has a lot of undeveloped land for sale, and you can find many of these properties on websites like LandandFarm. Some of the current and recent offerings as of November 2021 include ​5.01​ acres in Roswell for ​$30,000​, ​2.1​ acres in Alamogordo for ​$18,000​ and ​0.83​ acres in Angel Fire for $12,000. Some of these properties are surrounded by mountains and forests and are completely undeveloped. There is also plenty of New Mexico land for sale with water rights.
The writers at Lands of America also prepare lists of undeveloped New Mexico property for sale, and some of these have residences built on them. You can make an offer on ​0.25​ acres in Los Lunas (asking price ​$1,500​), ​0.25​ acres in Belen (asking price ​$949​) or on ​8​ acres in Moriarty (​$17,999​). According to the team at Ranchline, New Mexico land investments are low-cost, and the operating costs and property taxes are also inexpensive. Ranchline writers recommend buying land here as a consistent growth investment.
Again, there are not really free houses in New Mexico, but you can look for foreclosures and foreclosed homes for sale on real estate websites like Homes.com. An example of one of these is located in Santa Teresa, and it is priced at ​$242,000.​ It is ​1,805​ square feet, with three bedrooms and bathrooms, hardwood floors, extra kitchen cabinets and a garage.
Abandoned Property for Sale in New Mexico
If you have an eye on a property that you think was abandoned, you can go to the sheriff's office in the city where it is located. You can also go to the office of the county clerk. Either of these authorities might have a department that helps reconcile abandoned homes, cars and other properties with their original owners. You may be able to find out who the property owner is, the current appraised value and details about any liens or tax problems. The majority of homes that appear to be abandoned might not be or are already heading for foreclosure, though the bank has not yet taken action.
Writers for Taxation & Revenue New Mexico (TRD) post that they have an Unclaimed Property Office that serves the purpose of managing abandoned property and locating owners. If the owner is located, it may be possible to purchase the abandoned property from them. There are also websites that specialize in abandoned properties. One of these is Ten-X, which has a commercial building for sale in Deming up for auction, with a starting bid of ​$25,000​. To find abandoned properties, Realtor.com advises buyers to check local classified ads for home listings that read "immediate possession," "under appraisal" or "below market value."
You can also contact a licensed real estate agent who works in the area that you are interested in and ask if any abandoned or foreclosed homes might be available. One reason why abandoned homes cost less is that they are in need of repair, so consider this carefully before making any kind of offer, because cleaning and renovation can be cost-prohibitive. You will also have to pay for an appraisal fee, title insurance, lead and pest inspections, closing costs and related legal fees.