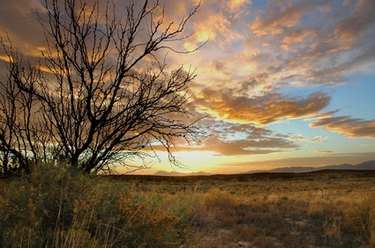 Claiming abandoned land in New Mexico is possible as long as the land has remained unclaimed by the original owner for more than five years. The court system in New Mexico requires the completion of financial forms and state-issued documents in order for an agency to review and approve the finder's claim. New Mexico considers land to be abandoned if during the previous five years no one has used the land and the owner's return is improbable. A few tips will help you locate and claim abandoned land in the state of New Mexico.
Step 1
Research financial agencies and banks that deal with unclaimed property in New Mexico. Consult with these agencies to determine the procedures and costs for finding and claiming unwanted land. Avoid agencies that charge fees to locate abandoned land. Check website Ec3.State.NM.us to find a list of unclaimed properties in New Mexico. Information on this site is represented by the state government and is free to use.
Step 2
Visit a New Mexico unclaimed property auction. Government and police auctions typically offer property and abandoned land for sale. Most government-hosted auctions offer free sign-ups and charge minimal auctioning fees. Bid4assets.com offers online auctions on property in New Mexico that has been seized or forfeited to the U.S. Marshal's Service.
Step 3
Check for New Mexico owner-less property referred to as "escheat." Escheat means that the unclaimed property officially belongs to the government since it has been abandoned. Talk to the sheriff's office in the city where you would like to claim the land. Many cities in New Mexico have a department that works to reconcile abandoned property with the original owner. Consult this department at the sheriff's office to discuss abandoned property.
Step 4
Attempt to find the owner of the abandoned land in New Mexico. Make a good faith effort to find the original owner. Courts will be more likely to rule in your favor and give you the land if they see that you have attempted to find the current landowner.
Step 5
File a claim on the desired property. Submit a claim at Ec3.state.NM.us to be delivered to the New Mexico Taxation and Revenue Department. According to this site, the department must consider and decide on the claim within 90 days of filing.
Tip
Research all potential unclaimed land areas. More than likely, there will be several abandoned land options that could meet your current needs.
Warning
Never bribe or pay off the current land owner. All financial transactions must be legitimate or penalties can include jail time and substantial fees.