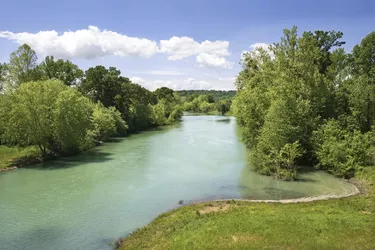 Arkansas mineral rights are sold or kept for use by the previous owner when land changes ownership. A fee simple estate allows ownership of mineral rights in Arkansas. The legal document providing information regarding mineral rights is the title or deed for the property. While some minerals rights are leased by companies, the ownership does not change unless a new deed is recorded. Ownership of mineral rights may date back several deeds in Arkansas; therefore some research may be required to locate the owners.
Step 1
Locate the name of the current Arkansas property owner. Obtain any additional information, such as address or parcel number, to help locate the land title in Arkansas. Arkansas uses a number system that implements the number of the country number, township, area and section.
Step 2
Visit the courthouse in the Arkansas county where the property is located, such as Crawford County. Arkansas requires each deed providing the mineral rights of property be recorded.
Step 3
Go to the county clerk's office where property deeds are recorded. Provide the clerk with the owner's information and land location in Arkansas. Request a copy of the recorded deed showing the mineral rights.
Step 4
Receive a copy of the deed, or title, and review the information regarding the mineral rights. If there is no reference to them on the current landowner's deed, go to the deed previously recorded for the Arkansas land transfer. Keep researching the deeds until it states the land is sold with the seller retaining the mineral rights.
Tip
Use a landmark near the property, such as a fire department or church, to locate the property on an Arkansas land map if you do not have the information on the property or owner's name. After locating the property, the tax map in the assessor's office provides you with the parcel number helping you locate the deed.
Warning
If the property in Arkansas has been sold several times or divided, you may need to hire an attorney or professional title company to research the mineral rights.