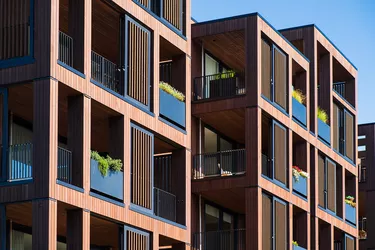 Although landlords are in the business of screening prospective tenants, you also may want to learn about a landlord before applying for a rental. Maybe you're unsure of whether a vacant home is available for rent but would like to contact the owner about the possibility of leasing it. Or perhaps you have no desire to live in a rental but you're a concerned neighbor who wants to report tenant wrongdoings to the homeowner. There are a couple of reliable ways to get in touch with a landlord when all you have is the property address.
Property owners are harder to find when their homes aren't actively for rent or when they simply don't want to be contacted. If a rent ad directs you to a property management company or a real estate broker, chances are you can't deal directly with the landlord and they prefer a third-party handles renters. Your landlord-locating strategy should depend on the status of the house and match your intentions.
If you want to become the new tenant, deal with the landlord's designated representatives. If you want to buy the rental or complain about current tenants, contacting the property manager or broker is the appropriate first step to take. Depending on the circumstances, they will determine whether to tell you how to find the landlord.
Ask the neighbors if they know the landlord and if they would be willing to provide you the contact information. Neighbors may hesitate to provide the identity or whereabouts of other homeowners, so be prepared to provide your own contact information if they are willing to pass it along to the landlord on your behalf.
Provide as much or as little information as you want, depending on how determined you are for a response. A landlord open to talking with you can then contact you directly without the neighbors having to compromise privacy concerns.
Online databases allow you to find an individual's address or the homes they own using only a name. Likewise, you can use online public records to find the names of homeowners using just an address. Even if the rental you're inquiring about isn't actively for sale or rent, you can look up the landlord's name using the local government's website.
The land records office, or tax assessor's office for the municipality in which the address is found, likely offers free online access to property records using the house number, street name and unit or apartment number, if any. Directories such as NETR Online can direct you to the land record or assessors website.
Landlord Information May be Limited
The address on file for the homeowner may be a post office or business address. This is likely if the property owner is a business entity or has multiple properties. Public records may or may not contain the landlord's phone number.
The property record reflects the tax-bill mailing address, which isn't necessarily the landlord's home address. The address for the landlord is simply where the assessor sends the tax bill for the address you input.
Your search for a landlord will be easier if you have a complete address, especially when dealing with multiple-unit housing. For example, condominium complexes may have hundreds of units and individual owners so having the unit number will help you sift through public records more easily.
If you have an incomplete address for a house and you're missing the number but have a street name, there may be hundreds or thousands of homeowners on that street, and you will have a much harder time finding the house and landlord information.