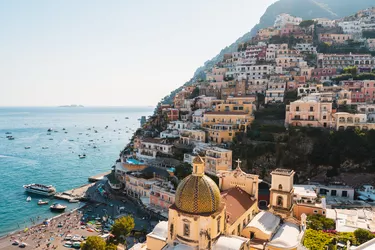 If the Italian way of living has always appealed to you, now might be a great time to move. While real estate prices are climbing across the globe, Italy has actually experienced a price drop since last year's COVID lockdowns, with annual price gains dropping to ​1.6 percent​. But there are other things to consider before you start shopping for your new Italian home.
Buying a property in Italy isn't all that different from buying one in the U.S. There will be stacks of paperwork involved, and you'll need professionals to guide you along the way. The first thing you'll need to do is conduct a thorough search of real estate agents to find one who speaks English, assuming you don't speak Italian, and can mediate an international purchase.
In Italy, the notary is just as important as a real estate agent. This professional will help with the legal part of the buying process. Find a notary to help you with your property purchase by going through the U.S. Embassy and Consulates in Italy.
Housing Availability in Italy
Just because house prices are low, that doesn't mean you'll be able to find Italian property that suits your tastes. In the U.S., as you're browsing homes for sale, you might see a house in poor condition and decide that renovating it to later flip it is a good idea. But homes in Italy don't see the same returns on property as you see in the U.S.
As in the U.S., low property prices also have driven down property availability in Italy. As lockdowns went into effect last year, houses that were previously up for sale were taken off the market, with residents choosing to stay with family or wait until things cooled down again. In fact, one study found a drop from ​€22​ billion in property turnover in ​2019​ to only ​€9​ billion in the same quarter of ​2020​.
Italian Homebuying Logistics
There are a few details to consider when you're buying a home in another country, and one is the exchange rate. ​One Euro​ in Italy currently equals ​$1.13​ in USD. For the purchase, though, you won't need an Italian bank account. Your notary can act as power of attorney in a sense, holding all funds in an account for you until the deal is finalized.
If you've bought a house in America, you know taxes and fees are part of it, and the same goes for Italian properties. Property taxes in Italy come in the form of something called imposta di registro, which is a tax you pay to the Italian government. You'll also pay a land registry tax and registration tax, as well as fees to your notary, the agency and a surveyor.
You don't have to be an Italian resident to purchase a house in the country. In fact, many Americans purchase homes to serve as a private rental or to use as a money-making vacation rental on sites like Airbnb. But if you plan to stay in the country for more than ​three months​, you'll be considered a resident and therefore will need to meet different requirements than non-residents.
Whether you're a first-time visitor or move back and forth from the U.S. to Italy, to stay longer than ​three months​, you'll need a residence visa. You won't be able to get this visa to gain resident status once you're in Italy. You'll then need to apply for a permesso di soggiorno, which is a permit of stay to establish Italian residency.
Buying a house in Italy is similar to buying one in the states in that you'll need a real estate agent and a preliminary contract once you've found a home. But even with low prices, homebuying in Italy might not be a good investment, considering the fact that property values aren't currently climbing in the country, along with other factors. Do careful research before making the move.