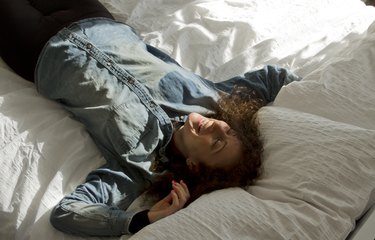 It's been a long, hard year. You might be sniffing the pandemic-less breeze by now and wondering where the wind can take you that is nowhere near last year. You want to get away, but you can't spend a fortune right now, either. Airbnb has you covered. It's the sharing economy's response to accommodations on the road.
Airbnb, Inc. launched as "Air Bed & Breakfast" back in August 2008 when some short-on-cash guys in San Francisco got the idea to offer their empty rooms as short-term rentals to three travelers who were looking for a place to stay. They're not short on cash anymore.
The name is shorthand for "air mattress B&B," sometimes abbreviated to its stock ticker "ABNB." Airbnb hosts and guests link up through a peer-to-peer arrangement on the internet. Airbnb doesn't own any of these facilities. Hosts rent out their extra space to travelers. In fact, you can reserve a private room, or a whole house, condo or apartment, in more than 180 cities - think New York City, Barcelona and Los Angeles - and 190 countries around the world. Your Airbnb experience each time will be made possible by hosts interested in a home-sharing arrangement in one form or another.
Airbnb verifies all personal profiles and listings on its site. It vets people on both sides of the equation – hosts and guests – via ID verification and background checks, including public records checks in some cases. It also provides a messaging platform so you can communicate with your host before arriving for check-in.
Hosts have to certify that they've attended home safety workshops or received education from the local fire department and/or EMS services. Their listings should include whether they're set up with smoke alarms, first aid kits and fire extinguishers.
​​ Your Airbnb experience each time will be made possible by hosts interested in a home-sharing arrangement in one form or another​​.
As for that COVID beast, Airbnb indicates that it's created a mandatory list of safety must-dos for both hosts and guests in response to the pandemic​.​ The rules aren't arbitrary. They must be followed. They include the usual mask and social distancing requirements, and a deep-cleaning, five-step checklist for hosts to implement between guests. Cancellations are free of charge if you have reason to think they haven't toed the line.
The bottom line here is that you're staying in a personal residence, not a commercial hotel. You can forget about those little amenities like room service, wake-up calls in the morning and having your bedsheets turned down for you at night. But rates are typically much less than they would be at a hotel or a resort. That said, Airbnb does charge guests a "service fee" that can range from six percent to 12 percent. Hosts are additionally permitted to charge a cleaning fee or additional guest fees.
Hosts set their own rates ­– Airbnb has no say in this. But overall, both Forbes and The Street have reported that Airbnb accommodations are cheaper than regular hotels worldwide. The best prices tend to be for homes located outside major metropolitan areas.
How to Book Accommodations
The Airbnb website provides an online experience that's easy to navigate. It's set up with all sorts of filters to help you pin down the listing that's right for your getaway or vacation rental, including reviews from other guests. It will walk you through the booking process. You do have to sign up and create a profile, along with a photograph and corroborating identification for verification. This process is free.
The site provides a 24/7 community/customer support team if you have questions or need help. You're covered as long as you speak one of 11 languages. And you can also communicate directly with your host to ask questions and confirm where you're supposed to pick up keys or how to otherwise gain access to the property. Some hosts will confirm bookings immediately, but expect others to take up to 24 hours.
Payment under the business model is simple: Airbnb collects and transfers all payments, so you won't be turning over your credit card information directly to the host. It accepts all major credit cards, as well as alternatives such as PayPal, Google Wallet and direct deposit.