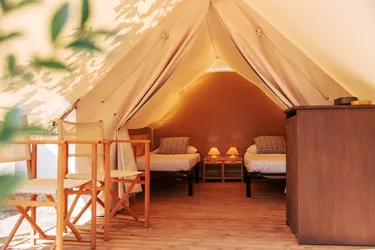 Glamorous camping, or glamping, has been trending upward for a while. Now KOA is getting in on the action. The Kampgrounds of America, or KOA, has long been known as a budget-friendly way to stay across the U.S. But now, campers can enjoy a luxurious camping experience.
Camping: An American Activity
Since the pioneers traveled across America in a Conestoga wagon, camping has been popular in the U.S. Camping also was and is popular worldwide.
Traditional camping was pretty much the epitome of roughing it. Traditional tents made of canvas were pitched, and sleeping bags were strewn inside on the ground. It was fun but not the most comfortable.
Glamping Begins in Great Britain
Although you can go back to ancient times for glamping, the recent trend started in Great Britain. The British exported this form of a camping trip to the U.S., where it first became popular in California. It revolutionized the camping experience and has become popular throughout the U.S.
A traditional camping trip strips down living to basic needs. It might encompass a tent, sleeping bags or a streamlined backpack. Cooking is over the campfire or grill, including only the essentials. When on a camping trip, you pack what you need to survive. There aren't any luxuries. And for many, this way of getting back to nature relieves everyday stress. You can unplug.
Glamping is a combination of the words glamorous and camping. Of course, you're still back to nature, but some niceties make this outdoor adventure more palatable.
For instance, if running water or a comfortable mattress are on your essential list, glamping might be for you. If you don't relish a leaky tent during a rainstorm, you might want to camp in a more permanent structure. You can still go hiking and kayaking, you just come back to comfort when the day ends.
In 2019, KOA campgrounds opened a glamping site near Acadia National Park. It was part of Tarramor, a new subsidiary. The KOA journey toward luxury had begun. The pandemic put a damper on the KOA resort expansion, but once the dust had settled, this new glamping site had 77 percent occupancy in its first year.
This KOA resort offered 64 canvas and wood glamping tents. It also offered a bar and restaurant. Massage services were available as well. With the national park next door, this provided a comfortable outdoor adventure.
The perfect getaway means comfort and fun. KOA locations sport deluxe cabins. These cabins offer private bathrooms. KOA deluxe cabins also have kitchenettes and often come equipped with cookware. So, you might not have to take your coffee maker with you. KOA patios are also a nice perk.
Staying at a deluxe cabin allows you to show up without all the usual packing for camping. Glamping in a cabin lets you comfortably sleep while protected by a roof and four walls. A deluxe cabin protects you from the elements so you can go glamping any time of the year.
A yurt is unique lodging that takes you to Asia, where they are popular. The yurt is a circular type of tent. They are enclosed and have rigid walls. Yurts often come with real beds, electricity and running water.
Sleeping in a treehouse is fun for parents and kids. Although these are not the same treehouses you remember as a child, KOA treehouses are stunning. They offer unique lodging that'll enhance the overall glamping experience.
A KOA treehouse is fully enclosed among the trees. It has amenities like running water, electricity and more.
KOA takes it to the next level if you're into RV camping. They provide a KOA patio. RV sites are easy to pull in and out of. And they have hookups for electricity. With almost 500 KOA campgrounds throughout the U.S. and Canada, you're sure to find one in your desired area.
Teepees and Airstreams are Fun for Family
The plains' Native Americans used teepees. They're a fun way to enjoy glamping. Although they are a temporary structure, they have a permanent floor. They are quite spacious and can accommodate a family.
An Airstream is classic America. Many KOA campgrounds will let you reserve these iconic trailers. So you'll have a throwback to 1929 when the Airstream was first introduced to America.
Safari Tent Mimics Traditional Experience
Based on what you'd find on an African safari, a safari tent is the premier of luxury camping. It's constructed with canvas walls and a roof. It usually includes insulation.
It's a super-sized glamping tent. It has all the amenities like a fully equipped kitchen, furniture, bedrooms and en suite bathrooms. They give you a great combination of comfort and outdoor adventure.
Whether you're staying in a treehouse or enjoying a deluxe cabin, KOA campgrounds have many great amenities. Hookups at the RV sites and tent sites are available. And in the evening, sitting around a fire pit is always relaxing.
If you're enjoying an extended visit, KOA has laundry facilities. And of course, WiFi is available.
Many of the KOA Campgrounds have:
Swimming pools
Hiking trails
Horseshoe pits
Biking trails
And more
Call ahead to see what amenities your KOA has to offer.
Whether you're staying in a treehouse or enjoying a deluxe cabin, KOA campgrounds have many great amenities.
KOA gives every glamper options. That's why there are three different types of KOA campgrounds available. KOA Journey is available for travelers. KOA Holiday is great when you want to stay put and explore. And KOA Resort provides pampering.
You can go from coast to coast in North America and stay at a KOA campground as you go. KOA calls this the Gateway to Adventure. They deliver convenient, inexpensive campsites. Located along highways and byways, they provide long pull-thru RV sites that make it easy to kick back and relax after a long day on the road.
If you're exploring a national park or taking in other local sights, you'll want a basecamp to settle into every night. KOA Holiday lets you enjoy your vacation with a comfortable glampsite. Come back after a fun day of exploring or hang out and enjoy all the KOA amenities like a full bath or KOA patio.
When you want a true glamping getaway, check out a KOA Resort. It offers a carefree destination vacation. You can relax and grab a bite to eat at a KOA restaurant or kick back by the pool. Bring your RV and enjoy a KOA patio. You can also take advantage of deluxe cabins with full baths and linens.
Create Your KOA Glamping Tent
Traditional tents are fine for some, but glamping tents may be more your style if you want a little more luxury. KOA provides glamping sites, so with a little imagination, you can turn your traditional tent into a glamping tent.
Start with real sheets and blankets. Purchase a large pad to sleep on. Bring lighting for ambiance. Make sure you have a roomy tent where you can stand up. Finally, decorate the interior of your tent.
Make sure you've brought outdoor lighting. Then, string those lights to make your glampsite cozy. Throw a tablecloth over the picnic table. And don't forget the s'mores.