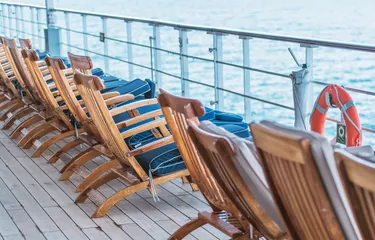 It's been a rough year for the cruise industry as many ships were docked and employees laid off to keep everyone safe. But now that vaccinations are widely available in the U.S., the industry is firing some of those ships back up, and cruise line bookings are on the rise. Increased demand can also mean an increase in prices, though, so you might pay more than you would have before the pandemic.
Cruising After the Pandemic
Before you travel, check out your cruise line's post-COVID measures. Carnival, Disney, Royal Caribbean, Princess and Norwegian are all part of the Cruise Lines International Association, which has its own list of COVID requirements for member ships. They include:
Daily temperature checks for staff and crew
Staggered times for passenger arrivals
Completion of a health declaration
Requirement of a negative test
Masks and physical distancing required
In addition to the ship itself, each port of call will have requirements. If you plan to take advantage of excursions during your trip, check those as well.
Prices for Cruise Vacations
A cruise vacation can be one of the cheapest trips since the cost of food and lodging are wrapped up in your ticket price. On top of that, though, you can usually find discount fares. Royal Caribbean offers a list of deals on its main page, and you can find Carnival Cruise's limited time offers on its Cruise Deals page.
Another way to save on a cruise is to be flexible in your dates. Summer is always a hot time for cruising, so if you can wait until fall when kids are back in school, you might get a better deal. But the cheapest tickets are often for cruises between January and March, which is a slow time for many businesses in the tourism industry, including cruise ships.
Getting a Good Airfare Deal
Unless you live near a cruise port, chances are, you'll have to add in travel time and expense. If you're taking a cruise that leaves from the southern half of the U.S., as many do, that probably means flying if you live on the northern East Coast or the West Coast. Flights from big cities like Baltimore and New York City can be pricey in the best of times, but prices have been spiking this summer.
One way you might save money is by booking a bundle through the cruise line. Ships can get discounts not available to you as a passenger. Princess has cruise packages that include flights, as do Carnival and Royal Caribbean.
​​ A cruise vacation can be one of the cheapest trips since the cost of food and lodging are wrapped up in your ticket price. ​​
International Cruises This Summer
Maybe you're ready to take that Mediterranean cruise you've always wanted. Summer 2021 might not be ideal for that simply due to the complications of international COVID restrictions. Cruise lines are just getting started, so you'll likely find that you're limited in the destinations you can choose.
Whether your trip takes you to Europe, the islands or another locale, you'll need your COVID vaccination card and possibly even proof of a negative test with you as you leave the ship. You might be asked to present it if you're taking transportation or a tour during your excursion. Also make sure the shops, restaurants and attractions you're planning to visit during your excursion are open and have no special restrictions.
Although cruise lines are busy this year, if you're looking for a relaxing, all-inclusive vacation, it might be a good time to go for it. With vaccination requirements and extra precautions, the issues that plagued 2020's trips should be in the past, allowing you to enjoy great food and entertainment. If you're interested in sailing to international ports and enjoying unrestricted excursions, though, it might be best to wait a little longer until COVID restrictions and numbers have lightened worldwide.