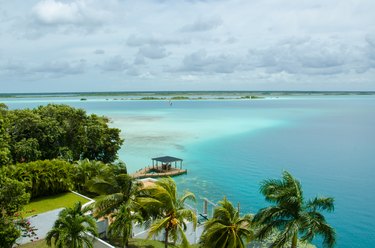 As the Delta variant continues to spread, many in the U.S. are putting travel plans on hold. But for those who are fully vaccinated, a vacation may still be in the cards. If you're planning a trip to Mexico, you might want to be aware of current travel advisories, including a high level of COVID-19 across the country.
Travel Restrictions on Mexico Visitors
Before you make reservations, you'll first want to check for any travel restrictions that apply to you as you enter from the United States. Currently, Mexico is allowing visitors from the U.S. as long as you provide proof of a negative COVID-19 test taken within three calendar days of travel. If you've had COVID-19 in the past ​90 days​ and recovered, you can substitute documentation of it from a healthcare provider instead of a test result.
These restrictions do not apply if you're arriving in the country "by land or by sea." They also don't apply to children under the age of two.
COVID-19 and Travel Restrictions
International travelers should always check the U.S. Department of State's latest travel advisories for any country they're visiting. Currently, the department's Mexico Travel Advisory is at ​Level 3​, which is the second-highest level. At ​Level 3​, you're urged to reconsider travel, while ​Level 4​ means "do not travel."
One reason for the advisory is a higher level of crime and kidnapping. But COVID-19 has also been listed as a top reason. As of early August, there were ​18,911​ new confirmed cases of COVID in the country. If you're fully vaccinated, your risk will be reduced, especially if you wear a mask.
COVID-19 Restrictions in Mexico
Restrictions and mandates will vary from state to state, just as they do on this side of the border. There are separate CDC travel recommendations for vaccinated and unvaccinated travelers.
If you're vaccinated, you'll still be required to wear a mask on all public transportation going to and from the U.S., as well as in airports and bus stations. The U.S. requires a negative COVID-19 test to return from other areas by air, so you'll need to make sure you can get one within ​three days​ of heading to the airport in Mexico. After traveling to high-risk areas like Mexico, the CDC recommends getting a COVID test ​three to five​ days after returning.
Unvaccinated travelers to Mexico should get tested ​three days​ before traveling, practice masking and social distancing throughout the trip and get tested ​three to five​ days after returning home. As an unvaccinated traveler, the CDC also recommends you quarantine for a full seven days after returning home, whether or not your test comes back positive.
COVID-19 Testing in Mexico
If you're traveling to Mexico, you'll need to make sure you can get a test within ​three days​ of boarding your plane back to the U.S. First, you'll find many local hospitals and clinics will issue a COVID-19 test to travelers who need them. But the Mexico Secretariat of Health website also keeps a list of approved laboratories.
There are some specific COVID test restrictions to be aware of before you start searching for a testing site in Mexico. The U.S. requires a viral test (PCR/NAAT or antigen test for current infection). Antibody tests are not accepted. Before you book your flight, make sure you book all connecting flights at the same time to avoid having to get a test within ​three days​ of boarding the final flight bringing you into the U.S.
If you're vaccinated, you can still pull off a trip to Mexico, as long as you're willing to take a COVID test before leaving and returning, if you're taking an airline to get there. But if you're not vaccinated, the CDC recommends putting off all non-essential travel until case numbers in the country drop.