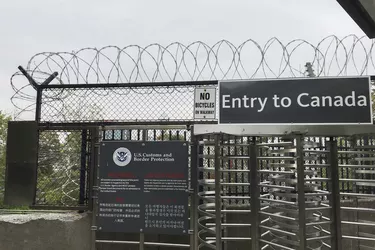 Canada closed its 5,500-mile border with the United States early in 2020 in response to the coronavirus pandemic. It was a cooperative effort between the nations. There have been some fits and starts and some preliminary steps toward reopening the border in 2021, and it appears that it will finally happen in August.
Effective ​Aug. 9, 2021​, fully vaccinated U.S. citizens and permanent residents are free to enter Canada for non-essential purposes such as recreation and tourism, but a long list of rules apply. You must arrive in one of nine cities if you fly in on an international flight:
Calgary
Edmonton
Halifax
Montreal
Ottawa
Quebec City
Toronto
Vancouver
Winnipeg
Most travelers from other nations can't yet gain entry, and all flights from India are suspended through at least ​Aug. 21, 2021​.
U.S. citizens and permanent residents must be vaccinated at least ​14 days​ before arrival and, no, Canada is not going to take your word for it. You must provide proof for each of your family members and traveling companions, except children younger than ​age 12​. This will involve entering your personal information into the ArriveCAN System online, including proof of your vaccination. You must do so before you arrive.
​​ Be sure to pack your patience if you're planning on driving into Canada. Most arrival points are still short-staffed and operating at reduced capacity and hours. ​​
Only certain vaccines qualify, although Canada has indicated that the list could expand in the future. They include:
AstraZeneca/COVISHIELD
Moderna
Janssen/Johnson & Johnson
Pfizer-BioNTech
You must additionally have proof of a negative COVID-19 test within the last ​72 hours​ of arrival, and you must be symptom-free. Children younger than age 5 are exempt from the test rule. Then there's a possibility that you might be tested again. Random COVID-19 molecular testing will be administered on arriving visitors if you're arriving by land or air. You must also provide ArriveCAN with a quarantine plan in case you're selected for the test and you test positive.
And that mask rule is still in place as well, at least if you're flying into the country. You can't enter a Canadian airport without one, and you must be masked if you want to use public transportation as well. This includes taxis.
What Will You Find When You Get There?
Be sure to pack your patience if you're planning on driving into Canada. Most arrival points are still short-staffed and operating at reduced capacity and hours.
The U.S. Embassy indicates that essential services in Canada are "generally available." Car rentals are essential, so you should have no problem if you need wheels. Access to non-essential services – think restaurants, bars, large gatherings and stores ­­– can vary by province. The embassy provides links to many provincial websites, so you can check in advance depending on where you want to visit. Check on curfews, too. There's not one in place nationwide, but some provinces are still imposing them.
Travel Packages Are Available
Here's a bit of good news: The Canadian government was authorizing only certain hotels for guests for a while, but that rule has been lifted as long as you're fully vaccinated. And, of course, you can't get in to vacation unless you're fully vaccinated.
Travel package deals are out there again in an effort to convince you to get that vaccine and pack your bags again. Travelocity has slashed prices on airfare/accommodation packages to many locations if you book ahead. Most of these deals aren't available until ​September or October of 2021​. A stay at Banff Park Lodge in Calgary will run you about ​$1,093​, including airfare, and this is down from ​$1,260​.
Other travel platforms are lagging behind as of July 2021. TripAdvisor is offering few, if any, air-and-accommodations package deals as of late July, but that might change when the border officially reopens. Keep an eye on the situation if you're really ready to get out of town and Canada is your go-to place.