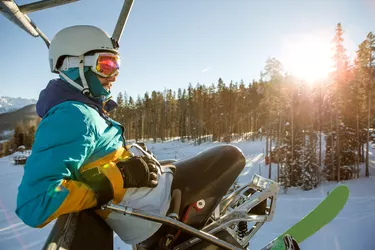 If you're looking for a fun getaway this winter, a ski vacation could be just what the doctor ordered. Not only do you get to spend time at a beautiful ski resort, surrounded by nature, but you'll also get plenty of exercise during your trip. But while you're choosing the perfect slope to fit your preferences, it's important to look at all your options to avoid spending more than necessary.
There's a seemingly unlimited number of ski resorts across the world, but not all ski slopes are created equal. In some cases, the slope closest to where you live will be the least expensive option, but if you can get a good deal on airfare, the sky's the limit. Here are some of the top ski slopes in the U.S., as well as what they offer in the way of deals.
Ski Resorts With Other Activities
There are more things to consider than the types of lifts and snow quality at your ski resort of choice. Most ski resorts have other amenities that can take your vacation to the next level. Here are some things to look for before you book.
​Food and Drink:​ Most ski resorts have on-site restaurants and bars, but you'll also find that many have restaurants nearby. Extra restaurants mean you won't have to rely on eating expensive meals at the resort.
​Spa:​ Spa services have become closely associated with ski resorts. Perhaps the most impressive is Lake Tahoe's Ritz-Carlton Spa, a ​17-room​ retreat that offers treatments and a heated outdoor lap pool that overlooks the slopes.
​Other activities:​ Skiing isn't the only way to enjoy the slopes. If you're interested, look for resorts that let you shake things up, adding in activities like snowboarding and snow tubing.
​​ There's a seemingly unlimited number of ski resorts across the world, but not all ski slopes are created equal. ​​
Ski Vacation COVID Considerations
Ski resorts remained popular throughout the pandemic, with an estimated 59 million skier visits during the 2020-21 winter season. Resorts have gotten used to operating during a pandemic by now, so many are still following COVID restrictions. You still may find capacity restrictions and mask requirements in certain indoor spots. Some resorts might also require proof of vaccination.
COVID has also made travelers well aware of how their vacation plans can be disrupted. Check into the cancellation policy on anything you book, from packages to accommodations to plane tickets. This will give you peace of mind in the months leading up to your trip.
Other Accommodations for Ski Vacations
Resorts can be convenient, but they aren't the only option. With most ski towns, there are hotels and rentals that are either on the slopes or nearby. Not only will this help you save money, but you may also find a charming rental cabin with breathtaking mountain views.
In addition to hotels and cabins, also look into vacation rental sites like Airbnb and VRBO. You can find condos and townhouses with beautiful mountain views that are a short drive to the slopes. Just check ratings and read reviews to make sure they offer the convenience you expect.
If you're in the market for a trip to the mountains this winter, a ski resort could be the perfect way to go. You'll get plenty of amenities combined with the thrill of skiing on the slopes. There are ways to save money if you plan ahead and look for deals online before you book.