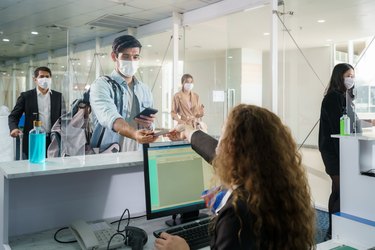 COVID cases are spiking throughout the U.S., with the COVID Data Tracker reporting high transmission rates. That could be bad news if you were planning to travel this holiday season. For those who are fully vaccinated, though, as long as you wear a mask in public places and monitor cases in the areas you'll be traveling, you can still enjoy your winter trips. Although, it's a good idea to stay aware of any new variants or other potential problems.
COVID and US Travel Destinations
If you've already chosen your destination and booked your reservations, it's important to be aware of how things are going in your arrival city. You can check the COVID Data Tracker's county view for the latest case numbers. If you use the county view and see, for example, x cases per x in the past x days is fairly high, you might want to take extra precautions when you arrive.
You may still be open to a destination, though, which gives you some flexibility. Currently, areas like Florida and Texas are seeing a slight reprieve, mostly because those states had a surge in the late summer and early fall. This might be the year to head to the beach for your winter vacation.
For those leisure vacations, you might still feel uneasy about gathering in large crowds indoors even after being boosted.
Protecting Yourself Before Travel
The CDC emphasizes the importance of vaccination before traveling. Once you arrive at your destination, some venues might even require proof. If it's been six months or longer since you were fully vaccinated, check into whether you're among the CDC booster recommendation group. That includes those over 50 for Moderna and Pfizer and anyone who got the Johnson and Johnson vaccine.
Another way to protect yourself is financially. If you're still booking reservations, look into refund policies. Hotels often let you cancel up to a short time before your trip, while vacation rentals typically have less flexible policies unless you purchase cancellation insurance. If you choose to purchase cancellation insurance, make sure you'll be covered if you have to opt out of the trip due to COVID concerns.
COVID-Safe Vacation Activities
First, if you're traveling to U.S. destinations to see family, the important question is whether you're all vaccinated or not. If some aren't, consider COVID testing before and after your trip. If all members of your family can get tested beforehand, you'll at least have that peace of mind.
For those leisure vacations, you might still feel uneasy about gathering in large crowds indoors even after being boosted. This could be a great year to plan that ski trip or lounge on a beach in one of the U.S.'s warmer climates. Although cancellation policies might not be as flexible, a vacation rental keeps you away from people who aren't part of your household and can be a COVID-safe alternative to hotels.
If your travel dreams take you out of the U.S., the criteria can be much stricter. International travel is usually extremely pricy, and refundability of reservations can be iffy, depending on the location. So it's important to keep an eye on all the U.S. travel advisories currently in play.
In addition to cautioning you when it's not safe to travel, there are simply some places you won't be able to go if you aren't vaccinated. But you'll also need to get a COVID test, vaccinated or not, before returning to the U.S. The updated specifics of air travel testing requirements are available through the CDC's website.
Before planning travel this winter, check local conditions and make sure you're vaccinated or tested before you leave. You might be required to test before returning, and some attractions are requiring proof of a negative test, proof of vaccination and/or masks to be worn. Checking all this before you go can help you avoid losing money on tickets or reservations when you arrive.