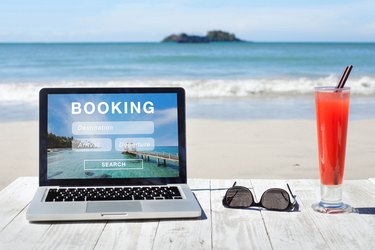 As boosters become available and COVID case numbers decline, many consumers are considering hitting the road this Christmas season. If travel is in your plans for the holidays, it's important to book your reservations as soon as possible. Demand has spiked as consumers are ready to see faraway family, so thinking outside the box could help you find a better deal.
When it comes to booking airfare, the earlier, the better. Prices on December flights start to climb the closer it gets to Thanksgiving. Price-compare what you see on travel booking sites like Expedia and Priceline to what you can get by booking directly through the airline.
If you're traveling this holiday season, you might need a place to stay. Those who are flexible on locations can check out Orbitz's deals on hotels, which list last-minute deals available at locations across the country. Expedia also offers special accommodation packages on its Christmas Vacation Deals page.
​​You might find it's easier to find deals this time of year since many travelers are spending the holiday with extended family rather than vacationing. ​​
COVID has made home rentals more popular than ever, which means competition can be fierce for stays through sites like Airbnb and VRBO. If you're having trouble finding a house or cabin, you might consider an alternative like tent camping. Airbnb lists some popular Christmas vacation rentals that can kick off your search.
Deals on All-Inclusive Resorts
In a year when availability is low and prices are high, there are some other options worth considering. All-inclusive resorts can be a great way to get away and enjoy some relaxation time. You might find it's easier to find deals this time of year since many travelers are spending the holiday with extended family rather than vacationing.
Here are some sites offering bundle deals:
​CheapCaribbean.com​: On this site, you'll find bundle discounts on flights and resort stays in various areas of the Caribbean.
​Costco Travel​: Costco members should check out Costco Travel's deals on all-inclusive resorts and cruises. A membership earns you exclusive deals that you might not be taking advantage of.
​Disney Vacation​: If you're thinking about a Disney vacation, Westgate Resorts offers packages that can save you money by combining park tickets with accommodations and dining.
​Holiday Cruises​: Christmas can be a great time to take that cruise you've been putting off. Like other cruise lines, Royal Caribbean offers deals on certain cruises during the holiday season.
Protecting Your Holiday Travel
With COVID uncertainties, both domestic and foreign travelers are concerned. Some are even waiting until the last minute to book just in case. But waiting can force you to pay more since prices will increase as the holiday nears.
If you can find an offer that fits your budget, travel insurance could be a way to protect yourself against unexpected disruptions. Before you sign a policy, though, check the conditions to make sure COVID is one of the covered reasons for cancelation. Cruise ships and some airlines have been especially flexible during the pandemic, so you might find you have some protection even without insurance.
It's never too early to start looking for holiday travel deals. With the uncertainty of the pandemic, though, you could be able to land a good deal due to last-minute cancellations. Shop around and be flexible about your travel times, destinations and transportation methods to boost your chances of getting the best deal for your money.