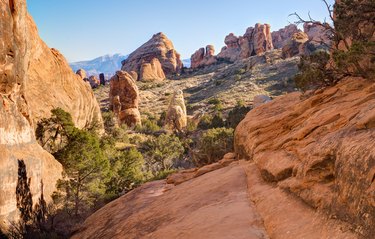 Americans are out of quarantine and ready to vacation. As with the summer of 2020, though, outdoor areas are still popular as post-pandemic travelers seek to ease their way back out into the world. National parks have become top tourist destinations for those travelers, but unfortunately, that could mean that your 2021 vacation doesn't go as smoothly as you hope.
Why Are National Parks Popular?
During the pandemic, national and state parks became popular tourist destinations as people sought outdoor vacations. With plenty of open space and fresh air, places with walking trails and campgrounds were ideal for staying socially distanced. But once COVID numbers began dropping, vacation destinations across the globe started filling up.
​​Due to national park overcrowding, visitors are showing up to find gates are closed or that they have to wait in a long line just to get in. ​​
In ​2020​, more than ​237 million​ people visited national parks, with more than ​8 million​ overnight stays. Those include locations like the Great Smoky Mountains National Park and the Blue Ridge Parkway that have indoor attractions nearby. It's also important to note that visitors were down in ​2020​ by more than ​90 million​ when compared to ​2019 numbers​.
Reservations for National Parks
Before you pack up your car and head to a national park, it's important to be aware that many are overcrowded this year. In fact, due to national park overcrowding, visitors are showing up to find gates are closed or that they have to wait in a long line just to get in.
If you're planning a post-COVID national park vacation, reservations are essential. For instance, you'll have to use the Yosemite National Park reservation system to visit that park, at least through the end of September. Check your park before you head out to see if you can make a reservation. Campsites will be especially competitive, so make sure you reserve those well in advance.
Cost of National Park Vacation
One of the best things about a national park vacation is how affordable it is. If you're tent camping, you can find campsites for as little as ​$20​ a night. RV slots and cabins are more expensive, but you can still usually find prices that are cheaper than a nice hotel room.
Beyond the cost for designated campsites, the attractions themselves are mostly free. You might need to pay for entrance, but those prices are much more affordable than an amusement park or attraction tour. If you frequently stay in certain parks, you can even get a single pass that gets you admission to multiple parks across the country through the Bureau of Land Management.
Alternatives to Camp Sites
If you can't find a campsite at any parks, consider a national park that has accommodations nearby. Some national parks are remote, which means you'll find undeveloped areas for miles all around. But there are others that at least have hotels within a short driving distance to the entrance.
Here are some parks that have lodging nearby:
It's never been a better year to explore the great outdoors while on vacation. If you plan to spend time at a national park, make sure you research COVID restrictions, whether you need reservations and if accommodations are available. Even once you've made reservations, watch the park's website or app to make sure nothing changes in the days, weeks or months leading up to your trip.