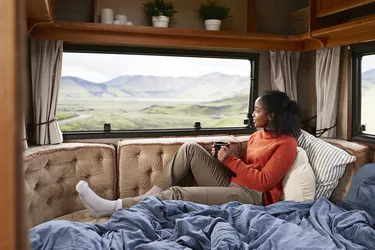 If you plan to take a long-distance road trip this summer, you might consider an RV rental as a more flexible and comfortable way to hit the road. Rather than have to pay for an Airbnb or hotel along with airfare and restaurants, you can save some cash by paying an RV rental fee along with some extras like gas, hookups and insurance. Along with enjoying the cost savings, you may find an RV rental more fun since it offers the freedom to stop where you'd like and enjoy attractions along the way.
So, what do you need to know about RV rentals and how you can reduce the expenses involved?
​​On average, you can expect to pay daily rental charges of at least $175 for Class A and $150 for Class C motorhomes, while travel trailers and fifth wheels may only cost $50 to $60. ​​
Available through companies like Cruise America as well as through individuals on sites like RVshare, an RV rental allows you to get an RV for a specified period of time and pay a daily rental cost along with other fees. RV renters often pick up the RV at one location and then need to refuel and return the RV to the same place once the rental time is up. However, Cruise America stands out as an option that allows for one-way rentals if you won't need the RV at your destination.
You can choose from Class A motorhomes that provide plenty of space for people and storage or Class C motorhomes that may be easier to drive for first-time RVers due to their smaller size. Larger RVs typically require diesel fuel more often than smaller ones that use regular gasoline.
You can also find other options like a travel trailer or fifth wheel that attaches to a vehicle. You can find plenty of brands and models from companies like Airstream, Winnebago and Coachman, and they vary based on factors such as size, amenities, flexibility, fuel usage and pricing.
Often, you can drive the RV with your regular license, but you need to check your state's requirements, since some do require a certain license or endorsement. You can travel on most standard roads with your RV but need to watch for size or weight limits and any posted restrictions.
Along your route, you can look for RV parks – such as those at the Kampground of America (KOA) – that offer hookups for utilities like water and electricity as well as dump stations to empty waste from the RV. Plan ahead to find campgrounds, parking lots and other locations that allow RV parking for the night.
What to Expect With Pricing
According to RVshare, the cost to rent an RV highly varies depending on the rental source, model, location and demand. On average, you can expect to pay daily rental charges of at least ​$175​ for Class A and ​$150​ for Class C motorhomes, while travel trailers and fifth wheels may only cost ​$50​ to ​$60​. However, you can pay much more for luxury models and less for older RVs you rent from individuals. Depending on the rental, you may have to pay extra if you go over a certain number of miles.
Beyond considering the daily rental fee, keep in mind the other costs you'll incur, some of which are optional. For example, you can experience highly variable rates for RV parks, taxes and insurance fees on rentals, roadside assistance fees if you opt for the benefit, and charges for cleaning, setup and delivery. Be sure to take into account the low gas mileage RVs get and factor in how much gas or diesel fuel you'll need for your expected mileage.
You can also help reduce RV rental costs by trying some of these tips before and after you hit the road:
Look into discounts on extended RV and site rentals if you're taking a long trip.
Seek campgrounds to have a cheaper place to park at night and enjoy a more adventurous trip.
If you don't have many passengers or things to carry, look for smaller RV models that are more drivable and save you money.

Try an app like GasBuddy to find cheaper fuel prices along the route and keep in mind you can save more with a diesel RV.

Time your trip for the slower season to both reduce costs and deal with fewer crowds for less stress.

Consider joining an RV discount club to save money on RV sites and local attractions.
Take advantage of your RV's kitchen and local attractions like a national park to cut down on food and entertainment expenses.
Try to negotiate rates whenever possible.
Check if your credit card has travel benefits that might save you on campground fees or offer points on purchases for fuel, food and attractions.

Compare prices and RV features carefully on sites like RVshare to get the best deal.