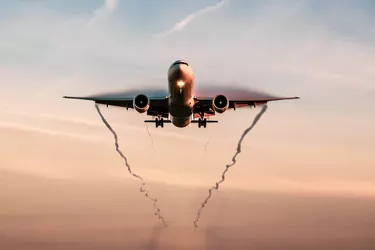 According to the booking platform Hopper, domestic and international airfare costs this holiday season will be higher than they've been during the ‌last five years‌. While increased travel demand is one factor, inflation and fuel shortages are also helping raise your travel costs this year. Therefore, you'll want to start planning your holiday travel now and be willing to spend time researching the cheapest options. Your flight dates, available discounts, credit card benefits, chosen airline and booking platform will all play a role.
Pick Your Flight Dates Wisely
Flying out the day before a holiday is very common, and the high demand unfortunately leads to higher fares. This means being flexible and willing to fly out earlier in the week – or even on the day of the holiday – can help you save some cash. In addition, Forbes mentions that departures and arrivals on Monday through Wednesday yield lower fares than on the weekend.
With this info in mind, you might book your Thanksgiving flight for the morning of the holiday and wait to come back on the following Monday rather than Sunday. Later, you might fly out on Christmas Eve and come back home in the middle of the week. To save even more, you could book red-eye flights that usually have cheaper fares any day of the week.
While you might hope for last-minute flight deals, you'll have the best chance of saving bucks by booking a few months early. Travel + Leisure recommends looking for Thanksgiving and Christmas flights in September, but now is still a good time to start checking prices for your planned trips.
If you find that flight prices seem too high now and you're OK with some risk, consider taking advantage of the price alert features that booking platforms often offer. You'll enter specifics about your travel plans – such as the departure and arrival dates and airports – and get notified if the price changes.
Use Flight Price Comparison Tools
Sites like Priceline and Expedia show prices for multiple airlines at once, while FareCompare can search multiple booking websites instantly. These tools can save you time and make it easier to compare your potential costs so you have a better chance of saving money.
They can also help you find last-minute deals and quickly see price changes based on travel class, arrival and departure times and the number of stops. Plus, some platforms help you get rental car and hotel deals.
Consider No-Frills Options
If you're fine with just a basic travel experience, you can cut your holiday flight ticket costs if you choose a no-frills airline. For example, Frontier Airlines mentions it has one-way domestic flights as cheap as ‌$19‌ along with "buy one, get one free" deals. Spirit Airlines, on the other hand, charges as low as ‌$32‌ for one-way domestic flights, depending on whether you join its membership club.
Availability for such airlines will depend on your origin and destination. In addition, you'll often have to pay fees for seat upgrades, food, bags and entertainment options like Wi-Fi. Therefore, you'll want to add up all fees with your flight price to make sure it's worth it.
In some cases, you might find you can get a reasonable price through regular airlines if you opt for economy class travel and accept a direct flight versus a nonstop flight.
Take Advantage of Discount Programs
You may qualify for discounts for specific airlines based on meeting certain criteria. For example, United gives you ‌5 percent‌ off your flight for being ‌18 to 23 years‌ old, while others often offer student discount fares. The AARP says you can save on British Airways flights as a member, while AAA offers flight deals. You might also have access to flight discounts through your employee benefits.
Check Your Credit Card Perks
You should check your existing credit cards to find out which cardholder perks you can use to cut your holiday flight costs. For example, you might have earned rewards points or miles you can apply toward airfare purchased with a particular card. Chase mentions other helpful benefits, such as a free checked bag, discounts on food, upgraded flights and free travel insurance.
For example, American Express offers ‌$200‌ toward airline fees, complimentary trip delay and cancellation coverage and airport security fee credits with its Platinum Card.