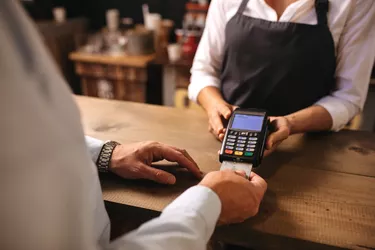 In February 2003, Juniper Bank changed its name to Barclays Bank Delaware. As such, Juniper Bank (as Barclays Bank Delaware), is a subsidiary of Barclays Group US, Inc., one of the largest credit-card issuers in the United States. The former Juniper Bank now offers numerous Barclays credit cards through its partnerships with different banks, large businesses, airlines and other entertainment and educational institutions.
Tip
You can apply for all Barclays credit cards online by visiting Cards.BarclayCardUS.com.
Here's just a sampling of Barclays credit-card offerings:
Barclaycard Arrival Plus MasterCard
You won't have an annual fee the first year you have the Barclaycard Arrival Plus World Elite MasterCard, but an $89 annual fee kicks in beginning with the second year. Tailored for travelers, this card requires a minimum 700 credit score and robust travel rewards, including unlimited 2X miles on each purchase.
Lufthansa Airlines MasterCard
For an $89 annual fee, Lufthansa Airlines card offers two award miles for each dollar spent on airline tickets purchased directly from Miles & More Airline Partners. Miles can be redeemed for flight upgrades not only on Lufthansa but also on Austrian Airlines, Brussels Airlines, SWISS and other participating partners.
Among other benefits, the Wyndham Visa card gives travelers five points for each dollar spent at Wyndham Vacation Rental North America Properties plus eligible purchase during hotel stays. Participants also receive 6,000 bonus points after each year's account anniversary. The annual fee is $75, with a 0 percent APR for the first six months.
NFL Extra Points Visa Card
For football fans, the NFL Extra Points card gives rewards that include two times the points on NFL and certain team purchases at participating NFL team retail and online stores. Points can be redeemed for things such as NFL tickets, NFL gift cards and certain NFL merchandise. A big perk is no annual fee and 0 percent APR for the first six months.
Customizing Your Juniper Credit Card
Select a credit card that best suits your lifestyle and needs. If you fly frequently, an airline credit card that helps you to accumulate miles would be the most advantageous. If you stay in hotels often, the Wyndham Visa card would be the most useful. And if you're a football fan, you may receive your highest benefit from the NFL Extra Points card.
When you apply for credit cards online, make sure you have your Social Security number ready. Be safe and do not apply for credit cards through public wireless hot spots where someone else could access your confidential information.