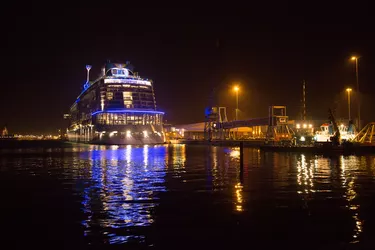 If you're a fan of cruise vacations and you prefer Royal Caribbean cruise line, you may want to investigate Royal Caribbean's credit card and start earning reward points. Royal Caribbean ships are known for their variety of onboard entertainment options, and the company operates the four largest passenger ships in the entire world. They own two small resorts (in Haiti and in the Berry Islands region) where their cruise ships make stops for passengers to enjoy the beaches and private waters. They also own Celebrity Cruises.
The Royal Caribbean Credit Card
The Royal Caribbean rewards credit card is a Visa Signature card issued by Bank of America. The card has no annual fee and offers its users one MyCruise reward point for ​every $1​ charged to the card. Money spent on Royal Caribbean qualifying purchases will earn two MyCruise points for ​every $1​ charged to the card.
That means that the best way to rack up points on your Royal Caribbean card is to spend it on Royal Caribbean cruises (and other related charges). Bank of America and Royal Caribbean often offer bonuses when you sign up for the card, like statement credits or bonus points for using the card. There are no fees for foreign transactions either, which can be a bonus when traveling through the Caribbean or the Bahamas on a cruise ship or otherwise.
Royal Caribbean Reward Points
The card currently offers ​25​ reward levels, which each allow credit card users the opportunity to trade in points for stateroom upgrades, cruise discounts, onboard credits or amenities, free or discounted cruise vacations or related Royal Caribbean merchandise. For example, with ​5,000​ MyCruise points, you can receive ​$50​ in onboard credit towards purchases on your next cruise, an upgrade on a three- or four-night cruise or two Royal Caribbean robes delivered to your room while you are on a cruise.
With ​25,000​ MyCruise points, you can receive ​$250​ in onboard credit for purchases of your choice. You can also receive companion fare on a three- or four-night Royal Caribbean cruise (that meets certain requirements) or an upgrade on a cruise that's four to eight nights in duration. With ​250,000​ MyCruise points, you can redeem your rewards toward a Royal Caribbean cruise that's nine to 12 nights long (valued at ​$3,600​ USD or less) or companion fare on a 10+ night Celebrity Cruises Europe cruise (valued at ​$2,500​ USD or less).
Higher reward tiers bring about more valuable rewards. For Royal Caribbean credit card holders, the minimum reward level you need to earn a free cruise is ​50,000​ MyCruise points, which earns you a three- or four-night Royal Caribbean cruise (valued at ​$1,000​ USD or less). This means you'd need to have ​$50,000​ worth of normal transactions go through on your Royal Caribbean credit card, or ​$25,000​ of qualifying Royal Caribbean purchases.
You'll need to redeem rewards points at least seven days prior to your cruise sailing date. Mention rewards when booking your trip; alternately, you can use Royal Caribbean's online portal to redeem your rewards points once you've reserved a spot on an upcoming cruise.
Since most Royal Caribbean credit card rewards are related to upgrades and bookings on future cruises, expect to use most of your points when you book your next cruise vacation. If you're redeeming points for merchandise, you can input your home address when going through the rewards redemption program.