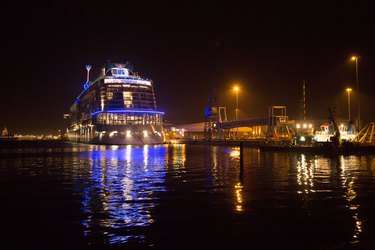 Accumulate enough points through your Royal Caribbean Cruises Visa credit card and you can redeem them for an assortment of credits, upgrades and amenities -- even cruise vacations. Redemptions are subject to restrictions and should be made before going aboard a reward cruise vacation. Once the transaction is completed, choice of ships and sailing dates will be final and nontransferable.
Points and Rewards
Royal Caribbean MyCruise points accrue based on net purchases charged to the Royal Caribbean Visa card and operate on two levels: one point for every dollar in net purchases, or double points for every dollar spent on Royal Caribbean, Celebrity Cruises and Azamara Club Cruises products or services. As of September 2014, Royal Caribbean offered 29 point levels for its cardholders, each with its own set of rewards. For example, 10,000 MyCruise points were good toward your choice of a $100 cruise discount or $100 worth of merchandise such as polo shirts and towel sets.
The Redemption Process
To apply your points to discounts, merchandise or a future sailing, go to the "MyCruise Rewards" section of Royal Caribbean's main website, where you will sign in to your credit card account. There, choose the cruise or other rewards desired. Within 48 hours, you'll receive a confirmation email, which you should then give to your travel agent or Royal Caribbean to book your reward cruise vacation. If you redeem within seven days of your sailing date, you must contact the company directly.