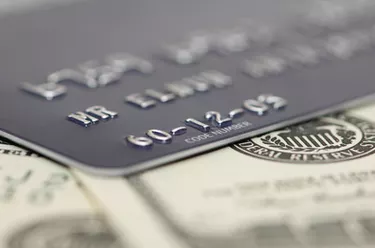 American Express offers credit cards at several different levels of annual cost, qualifying income and services offered. It introduced its second-most expensive card, the Platinum card, in 1984. Within a few years, other credit card companies began offering similar premium cards labeled "platinum." In 1999, American Express began issuing a higher level card, the Centurion card. Unlike other credit cards made of plastic, the all-black Centurion card comes only in titanium.
American Express Platinum
The Amex Platinum card has an annual membership fee of $450. It offers members premium services in several areas. You earn points whenever you use the card, with certain purchases earning triple and quadruple points. Points can be redeemed for gifts or travel from Amex's corporate partners, which includes a number of airlines. Amex emphasizes that its travel points have no blackout dates or other restrictions. The company offers Platinum cardholders free airport lounge access with airline travel partners and "concierge service," meaning that the company will book hotel, airline, restaurant and a variety of events for the cardholder. Its Platinum "Membership Rewards" program includes substantial fraud, purchase and return protection.
Getting to Platinum
Like other cards, you get an Amex Platinum card by applying for it. The company will check your credit not only for overall score, but for spending habits. It doesn't release information about specific criteria, but applicants for the Platinum card often receive the lower cost, lower status Gold card instead. If your spending habits with your Gold card meet Amex criteria, you will get a Platinum card offer. The card has no fixed spending limits.
American Express Centurion
The Amex Centurion card, often called "the black card" or "the titanium card," offers special benefits at a steep price. Amex charges a $5,000 initiation fee and a $2,500 annual fee. In addition to all the benefits included in Platinum membership, Amex assigns each of its Centurion cardholders (about 17,000 worldwide) a personal concierge. You call your own concierge, who will book almost anything requiring a reservation, from hotels and airlines to otherwise sold-out events. In addition to all the perks available to Platinum cardholders, Amex also creates special Centurion events, many free of cost, other than Centurion point redemption: a round of golf with Tiger Woods (80,000 points) or a sub-orbital space flight with astronaut Buzz Aldrin (20 million points).
Achieving Titanium
You cannot get a Centurion card by applying for it. Amex has to invite you. As with its Platinum card, Amex does not specify its qualifying criteria. Credit card analysts believe that, in addition to excellent credit and a previous relationship with Amex, you need to charge about $250,000 annually on your Amex and other credit cards.
Similar Offers
Soon after Amex introduced its Platinum card, other credit card companies began issuing competing platinum cards. Bank of America, Citigroup and others have repeated this process at the black card level. Bank of America's Accolades card, for example, offers similar perks and a $500,000 credit limit. Coutts, a U.K. bank, offers its special card to clients with a minimum of $1 million on deposit.