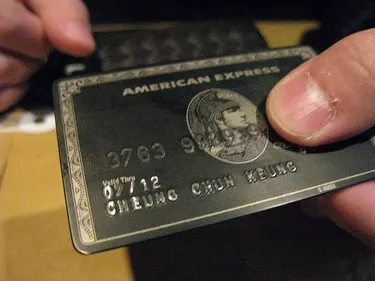 The American Express Centurion, better known as the "black card", is the most exclusive credit card in the world. Only people who spend more than $250,000 a year on their American Express card, have excellent credit and significant assets can qualify for this card. The annual fees are significant, but the benefits and reward program are unmatched.
History
American Express first started offering their Centurion card in 1999 to high net worth individuals and corporations that utilized significant amounts of credit on an annual basis. The company capitalized on a widespread urban myth that American Express offered a secretive special credit card to world leaders and celebrities that had an infinite limit. In a bit of good fun and clever business sense, the company introduced the card to select customers.
Significance
The Centurion card costs $5,000 to start using it and $2,500 a year in fees. This may seem insensible, but the considerable benefits that the card offers end up making it worthwhile to the wealthy people that make up its clientele. The Centurion card lets its users get free upgrades on most major airlines and at many hotels if it's available on the flight. In addition, Centurion card holders get access to 24-hour concierge service that can provide assistance with the card and other issues on request. It's like having an experienced secretary on call.
Features
The card also provides access to an elite car rental program, a subscription to a special magazine, a very generous rewards program, baggage insurance, a number of free plane tickets for companions, and private jet service. Centurion members can also frequently gain access to special tickets to concerts and sporting events that are sold out to the general public through the concierge service. Holders of the card can also often get special reservations for participating restaurants.
Considerations
The card is not quite as exclusive as some of the hype around it is said to be. Many business owners, if they make a slight effort to get the card, can qualify for it if they simply use their American Express corporate card for most of their business expenses. The only significant barrier is the credit limit, although that can be circumvented by providing additional payments to the company before the month begins to get a sufficient debit on the account.
Benefits
The primary benefits of using the card only really accrue to high-powered business travelers. Anyone else will not really find significant benefits for the money. Even the wealthy have great uses for the $2,500 annual fee that could be invested elsewhere. Many corporate Centurion holders cover the annual fee for their employees. The rewards program is limited to the items in the catalog, which are for the most part fancy electronics, jewelery, accessories and frequent flier miles.