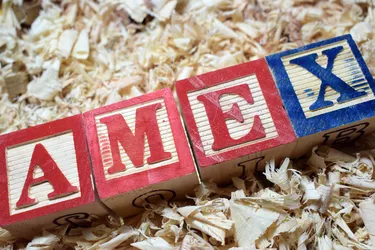 The Gold Card from American Express® is a popular choice due to its generous rewards and benefits. Of course, you're paying for this generosity with a $250 annual fee. Nonetheless, many cardmembers consider the fee reasonable. You can do many things with the Gold Card, including getting a cash advance.
The American Express Cash Advance program allows card members to withdraw cash charged to their Gold Card account at participating ATMs.
As is the case with virtually all credit cards, the Gold Card charges a fee for each cash advance. Specifically, the card charges either $10 or 5% of the amount of each cash advance, whichever is greater. The fee is charged on the day the cash advance occurs.
You may also be charged a separate fee if you take a cash advance from an ATM that is not on the American Express network. Before you can use the Gold Card for an ATM cash advance, you will have to obtain a four-digit Personal Identification Number (PIN). American Express may automatically assign you a PIN, or you can request a PIN by contacting Amex at 1-800-227-4669.
A credit card cash advance is a loan charged against your credit line. This type of loan does not require a separate application or approval. Rather, it's a built-in feature of credit cards that offer cash advances.
The interest you pay on a cash advance accrues from the transaction date and continues until you repay the advance. The interest is expressed in terms of an Annual Percentage Rate (APR), the actual yearly cost of funds that is applied over the term of the cash advance.
The maximum size of the cash advance is typically determined by your credit limit and current balance. For some credit cards, you can borrow up to the full credit limit minus your current balance. Other cards set a cash advance limit that is a fraction of the overall credit limit.
The American Express Gold Card is a charge card without pre-set spending limits. However, the card has a ​maximum cash advance limit of $6,000​.
Gold Card Cash Advance Interest
The Gold Card has a 25-day grace period that begins after the close of the billing period. Because the Gold Card is a charge card, you must repay the entire balance before the grace period expires, or else you will be assigned a penalty APR of 29.99%. However, if you sign up for the Pay Over Time feature, you can extend your payments over multiple billing period. The APR for this feature ranges from 15.99% to 22.99% as of July 2021.
A cash advance on an American Express Gold Card carries a steep APR. Cash advances have no grace periods. The interest you accrue on a cash advance is calculated daily starting from the transaction date and is based on the current cash advance balance. In July 2021, the Gold Card ​cash advance APR was 25.24%​, which works out to a daily interest rate of 0.06915%. Each day, Amex subtracts any new repayments of your cash advance balance and adds the previous day's interest to get the new cash advance balance. This is compound interest – you are paying interest on interest.
The Gold Card's cash advance APR varies over time to reflect changes in the Prime Rate, which is the rate banks pay to borrow from other banks.
Alternatives to Cash Advances
Cash advances typically charge an APR between 25% and 30%, which many would view to be a steep interest rate. For this reason, you may want to consider less expensive alternatives including personal loans, home equity loans and automobile cash-out refinancing. Naturally, the interest you pay on any loan depends on a number of factors, including your credit score, income and the use of collateral. Still, when you need a loan right away, nothing's faster than a credit card cash advance.