The Visa Signature card isn't just one credit card, but a series of them that all offer additional benefits and perks. Visa does not issue its own credit cards. The cards that bear the Visa Signature logo come from third-party issuers like banks, credit unions and retailers. The requirements to get a Visa Signature card vary depending on the card issuer.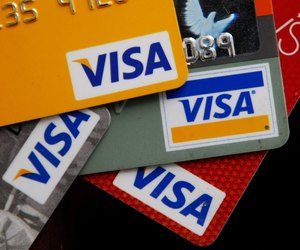 credit: Justin Sullivan/Getty Images News/GettyImages
Issuers
As of May 2015, several financial institutions offered Visa Signature credit cards. Among them were:
Capital One

U.S. Bank

Barclays

Navy Federal

Sovereign Bank

Fidelity

BBVA

Nordstrom

State Farm
Credit Requirements
Because the Visa Signature cards offer premium benefits, it typically takes an above average credit score to open one. For example, the Capital One Venture One card requires an average score of 696, according to Credit Karma. Additionally, applicants must not be more than 60 days late on any bills. They must have never filed bankruptcy, and must have had another credit line of at least $5,000 for at least three months.
Credit card issuers don't reveal the minimum income requirements. Some allow you to use household income rather than just personal income. For example, U.S. Bank allows applicants who are 21 years and older to include other income they have access to such as spousal income, rental income, Social Security payments or retirement benefits.
Card Perks
The exact benefits of a Visa Signature card will vary depending on the card's issuer, but most cards include:
Auto rental collision damage waiver

Lost luggage reimbursement

Roadside assistance

Travel emergency services

Travel accident insurance

Zero liability for unauthorized purchases

Extended product warranties

Year-end summary statements
Visa Signature cardholders also get additional savings, special promotions and travel deals like:
Access to Visa Signature Hotel Collection

Cruise discounts on lines like Princess and Royal Caribbean
A discount on a CLEAR membership, which allows you to get through airport security quicker
Savings from Limolink, a premier transportation and chauffeur service
Along with travel benefits, a Visa Signature card can lead to access to sporting events, concerts and other experiences like wine tastings, city and attraction tours, and concert VIP events.
To access Visa Signature benefits, call the customer service number on the back of the card, visit the Visa Signature website or call Visa Customer Assistance at 1-800-847-2911.