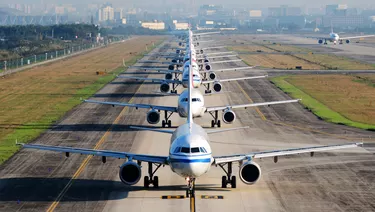 If you're a frequent flyer, airline credit cards and hotel credit cards offer perks that cut your travel expenses and reward you with cash back or bonus points. The best travel rewards credit card can offer you a sign-up bonus, travel insurance, travel credits and special experiences just for cardmembers. However, such credit card offers often require paying an annual fee and having a high credit score. Check out the best travel credit cards from major card issuers to know the benefits, terms and account opening process.
1. American Express Platinum Card
Ranking above the Gold card, this American Express card has a high annual fee of ​$695​. However, you receive more than ​$1,400​ in various annual benefits plus have access to special travel experiences. There's also a hefty sign-up bonus of up to ​125,000​ points upon accruing purchases of ​$6,000​ within ​six months​ of card membership.
Some travel perks include ​$200​ statement credits each for hotel stays and Uber, a ​$200​ airline fee credit, ​$179​ toward a service similar to TSA PreCheck and premier airport lounge access. You also get travel insurance for delays, cancellations and car rentals as well as ​5x​ points for air travel and hotels. Other benefits range from discounted dining purchases to statement credits for entertainment.
While traditionally a charge card, the Platinum card does let you pay over time with a ​15.99 to 22.99 percent​ interest rate. To learn more and become a cardmember, visit the card list page.
2. Chase Sapphire Reserve Visa
The Chase Sapphire Reserve is a step above the Chase Sapphire Preferred and has a ​$550​ annual fee in exchange for numerous travel credits and perks. New cardholders can get ​50,000​ bonus points if purchases reach ​$4,000​ within ​90 days​ of signing up.
Each calendar year, you get a ​$300​ annual travel credit along with ​10x​ points for car rentals, hotel bookings and dining arranged through Chase Ultimate Rewards. You get ​5x​ points for flights, ​3x​ points for other travel and dining and ​1x​ points for other purchases. Your points also have a ​50 percent​ increased value upon redemption. Other travel perks include airport lounges, credit for TSA PreCheck or Global Entry, various types of travel insurance and no foreign transaction fee.
You could have a ​16.99 to 23.99 percent​ interest rate. You can find application options on the Chase website.
The best travel rewards credit card can offer you a sign-up bonus, travel insurance, travel credits and special experiences just for cardmembers.
3. Citi Premier Mastercard
Great for frequent travelers around the world, the Citi Premier Mastercard has a lower ​$95​ annual fee and is one of the flexible cashback credit cards for travel. It has a sign-up bonus that can provide you with ​$800​ toward gift cards if you spend ​$4,000​ the first ​three months​ having the card.
The rewards program gives cardmembers ​3x​ points for airfare, hotel stays, gas stations, U.S. supermarkets and restaurants and a ​1x​ rewards rate elsewhere. A few reimbursement options include getting gift cards or transferring points to airline partners. You also get an annual hotel benefit that can help you save ​$100,​ and no foreign transaction fee applies.
If approved, your interest rate could be ​15.99 to 23.99 percent.​ You can apply here.
4. Capital One Venture Rewards Visa
Featuring a low ​$95​ annual fee and requiring an excellent credit score, the Capital One Venture Rewards credit card works great for travel purchases outside the United States since there's no foreign transaction fee. It also lets you have ​60,000​ rewards points as a welcome bonus upon spending ​$3,000​ during the first ​90 days​ of being a cardholder.
Travel benefits include ​2x​ points for all purchases plus ​5x​ points for rental car and hotel stays when you use the creditor's travel portal. Redemption options include gift cards, a statement credit or cash back through PayPal. You also get ​$100​ toward TSA PreCheck or Global Entry, access to special experiences and airport lounges, travel insurance and special rates for travel bookings.
Your interest rate can range from ​15.99 to 23.99 percent​. To see what terms apply, view the application for this Visa card.