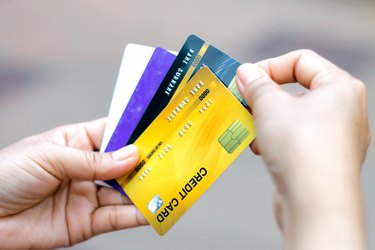 When you're exploring new card offers, you'll find that many credit cards come with an annual fee at least after the first year, especially if you want the best perks or need a secured credit card for bad credit. However, you can discover plenty of no annual fee credit cards with attractive promotions at account opening along with ongoing rewards programs. Such cards usually are unsecured and require a good credit score. Check out four top options from American Express, Bank of America, Citi and Capital One.
1. American Express Blue Cash Everyday
The American Express Blue Cash Everyday stands out as one of the cashback credit cards that target customers who spend a lot at grocery stores and want a high purchase limit when receiving the top rewards rate.
This American Express card offers ​3 percent​ back at U.S. supermarkets (first ​$6,000​ in purchases), ​2 percent​ back at gas stations and certain department stores and ​1 percent​ back for other everyday purchases in other spending categories. You also get car rental insurance, global travel help and exclusive entertainment experiences.
AMEX offers new cardholders a sign-up bonus and promotional financing. First, you can spend ​$2,000​ and get a ​$250​ statement credit in the ​first six months​ as a card member. Then, you can finance purchases with a ​0 percent​ intro APR or set up a payment plan without interest or fees for ​15 billing cycles​. The variable APR is otherwise ​13.99 to 23.99 percent​. You can view more info about qualifying and apply now here.
2. Bank of America Customized Cash Rewards
This card issuer lets you decide on ​three percent​ back for either home improvement, gas station, travel, online shopping, restaurants or drugstore purchases. You'll get ​two percent​ back for purchases at wholesale clubs and grocery stores and a ​one percent​ rewards rate elsewhere. A ​$2,500​ purchase limit applies for the ​two and three percent​ rates. If you are a Preferred Rewards member, you could get bonus points of up to ​75 percent​ higher.
New cardholders get an introductory APR of ​0 percent​ for ​15 billing cycles​ both for balance transfers (plus ​3 percent​ balance transfer fee) and purchases and then pay ​13.99 to 23.99 percent​. If you spend ​$1,000​ on the new card within ​90 days​, you can get a ​$200​ welcome bonus. See more card details and apply here.
3. Citi Custom Cash Mastercard
Similar to the Bank of America option, the Citi Custom Cash Mastercard gives you control over which purchases qualify for higher rewards. However, it does have a much lower purchase limit for the top category.
Your first ​$500​ spent in one chosen category will qualify for ​five percent​ cashback. Some example categories include streaming services, gyms, travel purchases, U.S. gas stations, restaurants and transit fees. Otherwise, you get ​one percent​ back on purchases beyond that ​$500​ limit and the same rewards rate on other eligible purchases. Other Citi perks for cardholders include an entertainment program and FICO score monitoring.
There's an intro balance transfer and purchases interest rate of 0 percent for ​15 billing cycles​, though a ​five percent​ fee for balance transfers applies. The variable APR then adjusts to ​13.99 to 23.99 percent​. The credit card issuer has a ​$200​ welcome bonus for spending ​$750​ the first ​90 days​ of having the card. You can view more terms and apply now here.
4. Capital One Venture One Visa
The issuer has a special travel portal where you can reserve rental cars and hotels and receive ​five percent​ back in miles. Everything else has a flat-rate cashback rate of ​1.25 miles​ for every dollar. Capital One's redemption options include everything from using the miles toward Amazon purchases to applying them toward past and future travel. Other benefits include no foreign transaction fee, an extended warranty, car rental coverage and travel accident insurance.
The ​0 percent​ intro APR offer lasts for ​15 months​ and applies for balance transfers (​three percent​ fee) and purchases. The variable APR increases to ​14.99 to 24.99 percent​ after that. Within ​90 days​ of account opening, you can spend ​$500​ and get ​20,000 bonus miles​. You can check here to see which terms apply to this card.