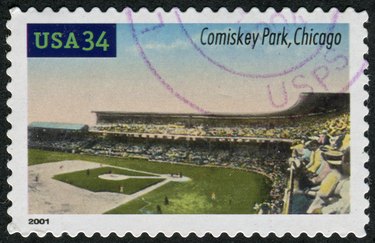 If you're a baseball fan with time to travel from spring to early fall, you might want to plan some trips to visit all MLB ballparks. You have several options for reaching all 30 of these parks that range from designing segments with multiple parks in the same region to taking individual trips for those farther apart. Train, bus and car travel can all work for visiting ballparks by region without stretching your budget, and you can go with economical lodging options to save further such as camping and Airbnb. Here's what you should think about if you want to visit every MLB ballpark.
Strategize Visiting All MLB Ballparks
Before you start planning your route, you'll want to consider both the MLB season's schedule and the location of the ballparks. First, take a look at the schedule on the MLB website or the Ballpark app and pay close attention to which games occur in neighboring states as well as when these games occur. At the same time, consider when you plan to have free time to travel and focus on the games in that time frame. You'll likely find you'll need to make several trips spread apart to visit every MLB ballpark over time.
For example, you might find games in New York, Massachusetts and Pennsylvania close together. You could make that one leg of your journey if you have enough time and money for a longer trip. You might use a train or bus service like Megabus, AMTRAK or Greyhound to reduce costs along such a route as well as arrange for extra time to do any other sightseeing you wish to do. Grouping ballparks like this can help you achieve your goal more quickly.
Arrange for Tickets, Travel and Accommodations
Before you arrange for transportation and lodging, you'll want to make sure tickets are available for the games you plan to see when you visit the MLB ballparks. You can buy individual tickets to the games and go with the best seating available for your budget, or you could opt for season tickets for a particular team. Along with purchasing tickets to games, you might look into booking ballpark tours to enhance your MLB travel experience.
​​When you travel to the MLB city, you'll also want to plan for getting to the MLB ballpark when the time comes. ​​
Once you have tickets, you'll want to go ahead and arrange for any bus, rail or air travel necessary as well as book your accommodations. You can use fare comparison tools online or take advantage of discounts through services such as AMTRAK and Greyhound to reduce travel costs. For cheaper lodging during your stay, you might look into hotel travel clubs or Airbnb to reduce your expenses or even arrange to stay with friends or family in the area.
If you're taking a trip to visit multiple MLB ballparks at once, an alternative option to buying tickets, accommodations and transportation separately might involve paying for a baseball tour package through a travel agency. However, these can come at a higher price due to the perks offered such as premium tickets and luxury hotel stays.
Prepare for Your MLB Ballpark Visit
When you travel to the MLB city, you'll also want to plan for getting to the MLB ballpark when the time comes. If you arrive by bus, plane or train, you might take public transportation to the ballpark such as using the Port Authority Bus Terminal (PABT) if you're in New Jersey or New York or the Southeastern Pennsylvania Transportation Authority (SEPTA) if in that area. You'll want to take a look at the city's public transportation routes and even consider alternatives like a taxi or Uber when needed.
Once it's time to visit the ballpark, be sure to check the ballpark regulations so that you don't bring any banned items or behave in a way that makes you end up missing the game. For example, it's fine to bring items like cell phones, bottled water, banners and blankets. However, MLB ballparks might ask you not to bring food or alcohol, use tobacco, bring a pet or carry unsafe items. You'll also need to avoid disruptive behavior so you don't get ejected from the park, and you'll need to follow the rules for re-entering if you need to exit temporarily.
NOTE: Be sure to check about requirements for masks during the COVID pandemic.