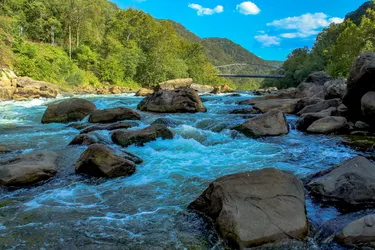 America's national parks experienced a booming summer season in 2021 as families began venturing out after a year of pandemic social distancing. They sought the outdoors for their getaways…fresh air, nature, waterfalls and hiking trails. More than ​14 million​ visitors descended upon North Carolina's Great Smoky Mountains National Park alone. That's not likely to change in 2022.
It's been reported that about ​54 percent​ of the country's would-be travelers are at least considering penciling national and state parks and nature reserves into their plans this summer season. The deluge of vacationers may even surpass what it was in 2021. Is it already too late to start planning? Possibly, because park officials coast to coast are already putting plans in place to manage the crowds. But you should still have some options if you act quickly enough and know what to expect.
Yellowstone National Park
Of course, some park sites are on every tourist's bucket list, and they can expect the largest crowds. Yellowstone National Park sprawling over Montana and Wyoming is celebrating its 150th birthday this year, and the 2022 summer season is packed with various events there. Visitors might top last year's record high of ​4.9 million​ in 2022.
Acadia National Park in Maine is another hotspot. It hosted ​4 million​ visitors last summer, so you can expect to encounter some crowds there as well. Officials have indicated that Cadillac Summer Road will only be available by reservation from ​May 25​ to ​Oct. 22, 2022​. You can nab one online at Recreation.gov up to two days before the date you want to hit the road there. The park is reserving ​70 percent​ of its reservations for this time slot, and entrance fees apply. Don't snooze or you'll lose.
Glacier National Park in Montana is requiring reservations for its Going-to-the-Sun Road across the Continental Divide in the Rocky Mountains from 10:00 a.m. through 2:00 p.m. from ​May 27​ through ​Sept. 11, 2022​. They've been available since ​March 2, 2022​, and they're also available at Recreation.gov. You won't need one, however, if you have lodging or camping reservations.
Yosemite National Park's California campground is a coveted location, but officials there have said that camping reservations are being granted by lottery this year so you may already be out of luck…at least if you want to camp there. Reservations are required from ​May 20​ through ​Sept. 30, 2022​ if you want to enter between 6:00 a.m. and 4:00 p.m. The good news here is that the Park is holding back ​30 percent​ of its reservations until seven days before your arrival date. Not all of them are first-come-first-serve.
Rocky Mountain National Park
Rocky Mountain National Park in Colorado is requiring timed-entry reservations this summer. You can reserve beginning at 10 a.m. Mountain Daylight Time at Recreation.gov on the first day of each month from ​May​ to ​September​, but you're reserving for the next month. You'll want to do it on May 1 for a June vacation.
You'll obviously have to plan well ahead to enter a U.S. national park in 2022. All told, about 12 National Park Service parks used a reservation system in 2021, and they're expected to do so again this year. AARP recommends checking out the NPS mobile app for up-to-the minute changes regarding closures, limits and other information. You must generally reserve lodging, campsites and park area access separately.
Travel + Leisure recommends reserving three to four months ahead of time if you want to spend the night in one of their campgrounds.
It's been reported that about 54 percent of would-be travelers are at least considering a National Park for their summer vacations, but you should still be ablet grab reservations if you act quickly and know what to expect.
Other Options to Consider
You're not necessarily out of luck if you can't nail down reservations in any of these peak, coveted time periods. You might want to consider bumping your vacation until September, October or even December, if possible. Turn your summer vacay into a fall foliage road trip. Yosemite is open all year, but roughly half of its visitors arrive in the summer months. That jumps to ​62 percent​ at Arcadia…but Maine has been known to get a bit chilly after the summer season closes.
And keep in mind that these locations are just the most popular national parks that the National Park Service offers. There are ​423 parks​ in the system, and ​63​ of them are designated national parks. You'll most likely have better luck booking at the last possible minute at a park that doesn't immediately come to mind when people are booking their summer travel plans. Zion National Park saw ​2.5 million​ visitors in the summer of 2019, while Great Basin National Park hosted just ​132,000​.
Consider a travel service if you're dead set on visiting one of the high-profile parks in mid-summer, but be prepared to spend some money. AAA offers 12-day/16-meal packages from ​$3,999​ per person, but that includes hotel accommodations. You won't be roughing it and camping out. You'll have a room at the Holiday Inn in Springdale, Utah for access to the Grand Canyon the next day. The itinerary is available from May through September in 2022. It begins in Scottsdale, Arizona and wraps up in Rapid City, South Dakota.
Amtrak offers a 10-day Glacier National Park tour beginning at ​$3,299​ per person. Yellowstone will cost you ​$5,649​ per person for a 15-day package. You can do the 14-day Grand Canyon tour from ​$5,149​ in 2022.