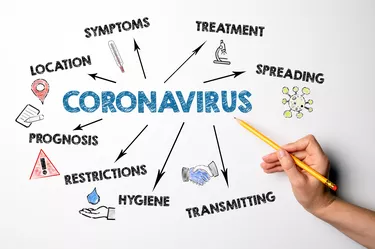 Vaccines and low case counts have allowed many areas to relax coronavirus restrictions, which means you can gather in crowds without even wearing a mask. But with the U.S. still experiencing hundreds of deaths each day, the illusion of safety can be dangerous. To make things easier, the Centers for Disease Control and Prevention (CDC) has a site devoted to COVID info. It includes factors to help you determine how long to quarantine and isolate after you've been exposed to ​COVID-19​.
The CDC calculator is designed to determine when you're at higher risk of spreading COVID to others, not catching it yourself. To use the calculator, you'll first need to know the date you were exposed to the virus. It can be tough to know the exact exposure date, so to be extra safe, go with the date you last might have come into contact with someone who had the virus.
CDC quarantine recommendations vary between those who tested positive and those who had severe ​COVID-19​. If you merely tested positive, you'll need to quarantine for at least ​5 days​. Those who were seriously ill need to quarantine for at least ​10 days​ from the estimated date of exposure.
the number of people in the room
the amount of time you'll spend in the room
the level of activity you'll be engaging in while present
whether you'll wear a mask
the type of mask you'll wear
your handwashing habits
whether surfaces are cleaned between uses
whether social distancing will be in place
the ventilation of the room
whether air cleaning is conducted
The impact of COVID-19 infection can vary from one person to another, so it's important to take your unique situation into account when assessing risk.
As you return to normal activities, it's important to pay close attention to your risk of severe ​COVID-19​ with an infection. The healthcare industry has seen an increased risk of time in the intensive care unit with the following risk factors.
​Obesity​: According to the CDC, an increased BMI also increases your risk of hospitalization, ventilation and death. Studies have also linked an increased body mass index with a greater risk of developing long COVID.
​Existing medical conditions:​ Unfortunately, COVID has been especially tough on those who have underlying health conditions. If your immune system is already compromised, catching COVID is more likely to result in hospitalization. COVID can be tough on the body, so you'll also see an increased risk if you suffer from conditions like lung disease, COPD, heart disease, hypertension or chronic kidney disease.
​Increased age:​ Throughout the pandemic, higher death rates have been recorded in those aged ​65​ and older.
​Higher-risk lifestyles:​ If your work regularly puts you in contact with the public, you're more likely to catch a contagious virus. OSHA has identified those in healthcare, transportation and mortuary workers as the highest-risk employees.
Reducing Your COVID Infection Risk
There are some things you can do to reduce your risk of a ​COVID-19​ infection. If you're in one of the high-risk categories, it's important to reduce exposure as much as possible.
​Get boosted:​ ​COVID-19​ vaccines are available in most of the U.S., but as the ​COVID-19​ pandemic has waged on, many have gotten lax about boosters. If you haven't had the first booster, you're already eligible. A second ​SARS-COV-2​ booster is currently available to select groups.
​Travel safely:​ Travel restrictions were lifted for vaccinated individuals first for a reason. If you're eligible for a booster, it's a great idea to make sure you're fully boosted before leaving home for your trip.
​Mask in high-risk situations:​ Yes, masks have some negative side effects, including fogged glasses and making others feel off-kilter. But even though some mask mandates have been lifted, you can still reduce your risk of catching COVID and other infectious diseases by wearing either a surgical or respirator mask.
​Social distance:​ You can reduce your risk of ​SARS-COV-2​ infection while doing what you love by simply social distancing. Enjoy outdoor activities when possible and when you're indoors, try to stay at least ​six feet​ away from others.
The impact of ​COVID-19​ infection can vary from one person to another, so it's important to take your unique situation into account when assessing risk. If you've used the calculators and you're still not sure, give your doctor a call for expert advice specific to your situation.