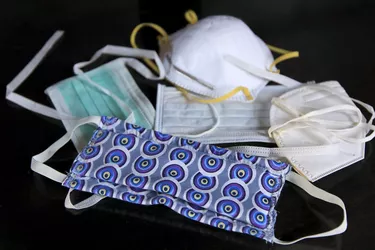 The coronavirus pandemic has been through several waves at this point, and experts aren't sure what's coming next. Chances are, you'll at least sometimes be required to mask up over the coming months, so it's important to keep some on hand. But at this point, scientists know much more about how face masks help protect communities against COVID-19, so it's important to revisit what each type of mask offers.
For a while, cloth masks were a fun way to get through the pandemic. Fashionistas could invest in fancy colors and patterns that expressed their personalities. Additionally, cloth masks were washable, allowing wearers to be eco-friendly and reuse the same mask indefinitely.
With the highly transmissible omicron variant, however, experts updated their guidance on cloth masks. Cloth is great at blocking particles from escaping when you cough, but they aren't as effective at blocking them from getting in. Due to the omicron variant's high transmissibility, experts now recommend upgrading your mask to something that protects you, as well as those around you.
One of the best things about KN95 and N95 respirators is that they usually fully cover the nose and mouth, leaving no gaps.
Multilayer Disposable Masks
Another option that became popular in the early days of the pandemic was the surgical mask. These lightweight paper masks have three layers. One layer is exposed to the environment around you and the other rests against your face. In the middle is a filtering layer that helps keep virus particles from getting to you.
The biggest issue with disposable surgical masks is that they tend to lack a proper fit to your face. One solution for everyday face coverings the Centers for Disease Control and Prevention recommends is a surgical mask under a cloth mask. The cloth mask holds the paper mask in place, closing in those gaps you get with a surgical mask alone.
Disposable Respirator Masks
As omicron cases skyrocketed, public health officials began recommending respirator-style masks. These are most commonly known as N95 masks, but KN95 masks are a good secondary substitute. Both masks get their names because they can filter ​95 percent​ of 0.3 micron particles from the air around you, giving you top-notch protection against infection.
One of the best things about KN95 and N95 respirators is that they usually fully cover the nose and mouth, leaving no gaps. They either have ear loops or loops that tuck behind the head to hold them in place. But the synthetic material, which is usually a polypropylene plastic polymer, is the important part as it has the filtration you need with a highly contagious variant.
Another solution that seemed like a good idea at the beginning of the COVID-19 pandemic was face shields. But as time went on, experts cited multiple concerns with the fact that the shields are open underneath. The design simply isn't sufficient to keep droplets from getting in and out.
However, face shields can make a great double masking solution. If you wear masks like an N95 or a disposable surgical mask, the face shield can offer another layer of protection. This can be a great solution if you're in a situation where physical distancing isn't possible, such as traveling on an airplane or using public transportation.
Spotting Counterfeit Masks
In the drive to stop the spread of COVID-19, a few scammers have slipped into the mix. Masks like N95 and KN95 that are supposed to offer the highest level of protection might not be keeping you safe against infectious disease.
As more variants come and go, the best way to protect yourself is through vaccines, social distancing and wearing a mask sufficient to filter viral particles. A well-fitting mask with the right built-in filtration can help you stay healthy and safe.