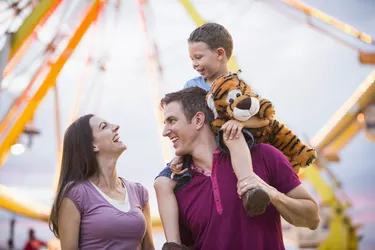 Disney World was closed for four months, and Disneyland closed for a year due to the COVID-19 pandemic. When they opened, they had strict rules regarding face masks. They dictated the type and style a face covering should be. But have things changed? Do Walt Disney World and Disneyland still require guests to wear masks?
Disney Parks Relax Face Mask Rules
Disney now no longer requires face coverings to be worn all the time. You can now enter the parks without a face mask if you are fully vaccinated. While they insist on fully vaccinated guests, Disney does not require proof of a COVID-19 vaccine when entering. This applies to Disney's Magic Kingdom, Epcot, Disneyland and the rest of the Disney theme parks.
Disneyland and Disney World had originally required face coverings for guests ages two and older. According to the Walt Disney Company, the change in mask requirement was due to "recent trends and regulatory guidance."
California had lifted its state-wide face covering mandate. But counties and municipalities were given the option to mandate masks. And although Florida recommends face masks, there is no statewide mandate to wear one.
The Walt Disney Company made this decision shortly after Universal Studios lifted their face covering restrictions.
Disney Face Covering Policy
Disney World still has some rules when it comes to wearing face masks. And although face masks are optional in most outdoor venues, there are still some areas where face coverings are required.
Regardless of a guest's vaccination status, Masks are required in indoor locations. They are also required on all enclosed Disney transportation. This affects:
monorails
Disney Skyliner
Disney buses
Disney is still requiring face masks to be worn in indoor attractions and indoor theatres. But face coverings are not allowed in water slides or in water.
Disney no longer requires face coverings to be worn all the times - with exceptions.
Types of Face Masks Allowed
Face masks may be disposable or reusable, but there are some stipulations. Masks must have two layers of breathable material and completely cover the nose and mouth. They also must secure under the chin. Although they should be comfortable, face masks must fit snugly against the side of the face and secure with ties or ear loops. Finally, they must be attached so that the guest can be hands-free.
You may wear a face covering that has an integrated plastic panel. But it must not contain any openings. It must also be attached using tight knit stitching on all sides.
Face Covering Types Prohibited
Based on health authorities, like the Centers for Disease Control and Prevention (CDC), Disney only allows specific types of face coverings.
The prohibited masks are neck gaiters, open chin, face coverings with valves and triangle bandanas. They have also banned masks made from mesh material. No mask may have holes of any kind.
Costume masks are not considered a proper face covering and are also prohibited.
Who Should Wear a Face Mask
Of course, if you aren't fully vaccinated, you must wear a face mask. But there are other reasons to wear a face covering at a Disney theme park.
The CDC recommends wearing a face mask if you are in close contact with other people. Close contact happens at any theme park. People who have a weakened immune system or are taking medication that causes an immunity problem should wear a face covering. If you have diabetes or a heart condition, a face mask is also recommended. Speak to your healthcare provider before visiting a Disney theme park.