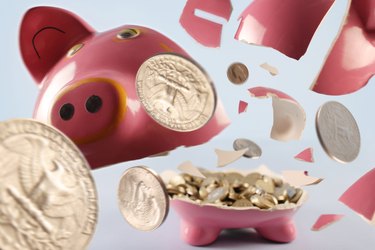 Disneyland Increases Ticket Prices
The 8 percent increase in daily tickets didn't just affect Disneyland entry. Parking went up as well. Parking increased 20 percent per day.
The one bit of good news is that the adult one-day, one-park pass ticket price has remained the same at $104, but all other ticket prices have increased. This includes the Park Hopper, which allows the guest to visit two parks in one day.
The 8 percent increase doesn't exactly fall in line with the U.S. inflation rate. The inflation rate for the U.S. in September 2021 was 5.4 percent. With the inflation rate at a 13-year high and the increased price of the Disneyland ticket, taking a family of four to Disneyland could be out of many people's reach.
With inflation comes an increase in energy costs, which increased 24.8 percent. So whether you're making it a road trip or taking a plane, the cost of getting to Disneyland adds to the increase.
If you're flexible with the days you can go to the Disneyland parks and you want to save a little money, you can take advantage of Disneyland's tier pricing structure. The opposite is also true. If you don't mind spending a little more, you can visit on the premium days.
In the tier structure, the cost of a one-day ticket depends on the date you want to visit the park within the year purchased.
The tiers are divided up into:
Tier 1
Tier 2
Tier 3
Tier 4
Tier 5
Tier 6
​​ If you're flexible with the days you can go to the Disneyland parks and you want to save a little money, you can take advantage of Disneyland's tier pricing structure. ​​
Disneyland Multi-Day Ticket Prices
Besides tier pricing, Disneyland offers multi-day ticket prices. The multi-day price is the same regardless of what date you visit. There's an additional cost for the Park Hopper addition.
One park per day adult 2-day ticket - $255
One park per day adult 3-day ticket - $330
One park per day adult 4-day ticket - $360
One park per day adult 5-day ticket - $380
The Park Hopper pass will run you an additional $60 per ticket.
Although the five-day ticket looks like the deal, it does come with a price. You'll probably get hungry with all that walking around. Disneyland lunches can rack up the daily expenses. For example, lunch for an adult at the Disney Carnation Café will cost anywhere from $15 to $34.99. If you multiply that by two adults for five days, you've got a hefty food bill. And you still have to pay for the children.
Besides lunch, you'll want drinks and snacks. And you'll probably want to buy a couple of pairs of Micky Mouse ears. It all adds up.
For the price of $20 per day at Disney World and $15 per day at Disneyland, you'll be able to use the Lightning Lane at various attractions and rides. Named the Disney Genie service, the cost is per ticket, so the price of this convenience could add up fast.
For Disneyland guests, you'll also have access to unlimited Photo Pass downloads as well as numerous other perks. It's available on iOS and android.
Even if you have the budget to go to Disneyland, there are still some pandemic precautions you should know about. Some of these include:
Park reservations – Despite purchasing a ticket, you can't just show up to use it. You must have a reservation for each park, each day.
Face coverings are required – Except for actively eating, at which point you must stand in one place. No eating in line.
Check the app for updates – Disneyland has an official app that will let you know of any updates. This is free and not the same as the Disney Genie.
Some restaurants still have limited capacity.
Disneyland also requires over-the-ear masks. So make sure you have the right one before you show up at the park.
Price Break in Summer Short-Lived
After 412 days, the Disneyland theme park in Anaheim reopened on April 30, 2021. It was a limited opening, with only California residents invited through the gates. The capacity was limited to 25 percent, and social distancing was strictly enforced.
By July 2021, even though theme parks were now allowed to open at full capacity, Disneyland's short lines and lower attendance motivated Disney to lower ticket prices for California residents.
But eventually, the crowds' return changed the pricing goals. The result is a fun but pricy experience in Disneyland.