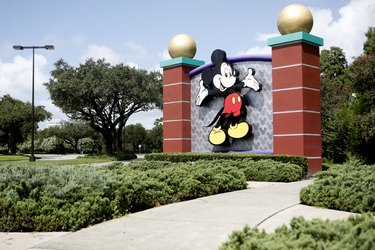 With 40 square miles of ground to cover, Disney guests are going to love the complimentary Genie Service that launched October 19, 2021, on the My Disney Experience app. How can a free service save you money? It's simple: Genie helps you maximize one of your most important resources during a Disney trip – time.
Create Your Best Disney Day
Without a plan or an itinerary, Disney theme parks can be overwhelming. It's challenging to make sure you visit all of the attractions and take advantage of all the experiences that await you.
Disney's Genie service is part of a new update to My Disney Experience, the one-stop mobile Disney app that helps visitors make every moment count. And with the cost of a day at Disney, a free service like this can be very valuable indeed.
Genie is your personal digital assistant built right into the My Disney Experience App. It builds a personalized itinerary for your day, helping to ensure that you see what you want to see, get there on time and never have to wait hours for a dinner reservation. It includes various features.
​Dining plans:​ Browse menus, make reservations, join waitlists, check-in and make orders.
​Navigation:​ Make your way around the park with a personal, interactive map.
​Check wait times:​ Find out what the line is like at your favorite attractions and shows.
​Flexibility:​ Genie makes it easy to modify your schedule and swap out activities.
​Chat feature:​ Genie can provide quick answers to your questions.
​Reminders:​ You'll never miss a reservation.
​Updates:​ Get up-to-date information all day long.
Genie maps out your entire day with your individual preferences in mind. It creates your best Disney day.
Genie takes all the information you supply about your preferences and interests and creates a personalized itinerary that maximizes your experience and simplifies the amount of planning you have to do. Getting started is as easy as telling Genie what you want out of your Disney day.
You can go into the "Attractions" tab in the Genie app and select all of the specific attractions that interest you: dining, experiences, entertainment and more. Or, if you're not exactly sure what you want to see and do, you can start with "Interests" and give Genie a general idea of what makes you smile, whether it be water rides, parades, thrill-seeking, foodie experiences or something from the Enchanting Extras Collection.
Genie takes the insights and preferences you shared and evaluates thousands of different combinations to develop an individualized plan for you to experience the parks. Alongside your personal interests, Genie considers locations, forecasted wait times, availability, park hours and distance between activities to give you tailored recommendations designed to maximize your time and your fun.
Genie offers a "Why This" function to explain why a particular attraction was chosen and what you'll see or experience there.
If you decide a particular suggestion is just not for you, Genie is flexible. You can always change your plans. And if you are doing it on short notice, that's just fine. Genie can make suggestions in real-time.
Additionally, the Genie tip board lets you have more control over your schedule. You can check showtimes, estimated wait times, set up your dining experiences, join virtual queues and select arrival times. Create your tip board and find your best entry time for your favorite attractions.
You can add to your tip board by checking out the "Experiences" tab on Genie and building more of your favorites into your day.