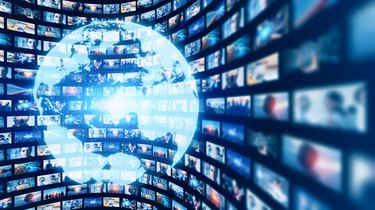 Television has changed significantly over the course of generations. Ask your grandparent and they'll probably tell you about getting only three local channels that automatically cut off at midnight - and you had to stick a metal contraption on your roof to receive even that much service. Since advertising supported the industry, there was no such thing as ad-free, free TV. Then came cable, and then speedy internet and cord-cutting and streaming services.
But this bounty can present its own dilemma. There are a lot of providers out there to choose from. You can narrow down your options if your TV show viewing preferences are pretty limited, but what if you're a cord-cutter with a wide range of interests or you're trying to accommodate more than one avid watcher beneath the same roof?
Amazon Prime Video can be a solid choice if your first priority is to make sure your kids are happy, but it's hard to top Disney Plus when it comes to youngsters' fare. All Disney-owned shows are available here and a lot of them can be streamed in 4K at no extra cost. And it's rolled up its shirtsleeves to provide improved parental controls as well. But Netflix might still be the best bet if you're concerned about controlling what your kids are watching. They get a salute for the best parental controls.
Hulu is known for having a nice selection of TV series that appeal to the entire family, and it's got a nifty anime section, too. But accessing older seasons of your favorite shows can be a bit spotty, and it doesn't offer CBS programs.
And don't overlook FuboTV for overall family fare. Even its starter package will give you the Disney Channel, Food Network, Fox News, Lifetime and Nickelodeon. How's that for covering everyone's viewing preferences? YouTube TV services offer all this plus the Cartoon Network, CNN, MSNBC and Animal Planet as well.
Netflix is hands-down the choice if you're a movie addict, although it can be a bit spotty with the newest releases and its lineup has been known to change with aggravating frequency. You might not want to put off until Tuesday what you can watch tonight.
Amazon Prime offers a pretty impressive selection of movies and of course, HBO Max provides its own original shows and movies. FuboTV gives you access to the Hallmark Channel, too.
The best streaming service has programming that makes each family member happy, so you might want to narrow your choice to those that offer the most simultaneous streams.
There's TV...and then there are those live TV channels. If you don't want to miss a single crack of the bat, the pounding of hooves on turf, or the roar of a Saturday or Sunday football crowd, you're probably wondering where are the best sports channels?
You might want to consider Sling TV for a nice selection of ESPN channels. FuboTV also offers ESPN and ESPN2, plus the golf channel and the NFL Network. You can add Major League Baseball, the National Basketball Association and the Tennis Channel if you upgrade to its Elite package.
YouTube TV offers NFL, NBA and MLB games. In fact, it has one of the best live sports packages available...unless you're a tennis fan. It doesn't offer the Tennis Channel. Peacock has you covered if World Wrestling Entertainment is your thing. It's the exclusive home of the WWE in the U.S.
Where Can You Get it All?
The bottom line here is what you prefer to watch and how many people in your household want to watch it. Netflix and Disney Plus offer up to four simultaneous streams if you have multiple streaming devices, and that can be important if your family has divergent viewing tastes. But keep in mind that Netflix has a knack for steadily increasing its prices. It's probably your costliest option, but you really do get what you pay for. You'll have access to about 5,500 programs. This service comes closest to doing it all...unless you're a sports fan.
Amazon Prime and HBO Max come in close with three. Same with FuboTV, but only if you pay for the top monthly subscription. Otherwise, you're limited to two. Hulu might be best for one-viewer households. You're limited to two streams at a time with this service, and Hulu doesn't offer the option of buying up for more.
And keep in mind that you and your Smart TV you don't have to choose just one.