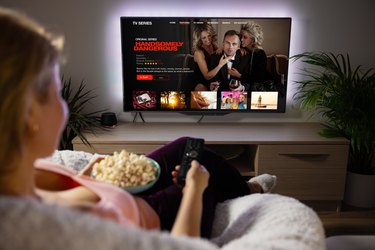 The way people watch movies has changed, with the popularity of streaming services slowing down movie theater industry growth. But not all streaming services are geared toward cinephiles. When you're ready to pop some popcorn and enjoy a good movie at home, it's important to make sure you have a streaming service that delivers.
What Are Movie Streaming Services?
A streaming service is an online platform that provides entertainment. There are music streamers, like Spotify and Apple Music, as well as video streamers. But often when you hear about streaming services, it's for TV shows or documentaries.
The problem is, some of the best live TV streaming services and demand streaming services don't excel when it comes to movies. Some might love being able to stream all seasons of "The Office" or "Friends," but what about the latest superhero movie or a good horror flick? That's where it's important to look at which platform has the best feature film selection.
Original Content Versus Licensing Agreements
At one time, movies were either released in theaters or went straight to DVD. But Netflix brought a new dynamic to the market. In the years since, Netflix has expanded into including TV series too, but there's no denying the site does a great job at securing original movies for its platform.
But as great as Netflix is at producing and buying original movies, the streaming service wars have brought out competitors like HBO Max and Paramount, streaming platforms which have become leaders at licensing studio movies. If you want to catch the latest Marvel movie or the entire Star Wars franchise, you'll need to look at some of those other options.
For cord-cutters looking for the best movies, it's important to choose the right streaming service.
Best for Theatrical Films
If you're one to wait in line for Marvel movies, Disney Plus should top your list. Disney Plus is also great if you have children in the house. You'll not only get the full catalog of Disney and Pixar films on demand, but also films in The Avengers and Iron Man franchises. Disney Plus also has exclusive streaming rights to Sony's upcoming theatrical releases, including new movies with Marvel characters, as well as popular content like anime and original series like "WandaVision."
HBO Max is another favorite of movie buffs. The streaming service gives you access to a wide range of exclusive movies, including 20th Century Studios and Searchlight Pictures. But those deals are shared between HBO Max, Disney Plus and Hulu, which has also become a serious contender in the movie streaming sector.
Best for Original Content
If you're looking for original movies, you can't go wrong with Netflix. But don't rule out some of the competitors too. Apple+ is great, particularly if you have an Apple TV. You'll get plenty of original movies there, as well as on Amazon Prime Video. In fact, Amazon Studios is a separate division of the company dedicated to original shows and movies.
If you have your streaming devices or Smart TVs ready to go, don't rule out the many free streaming services out there. Yes, Peacock and YouTube TV require a monthly subscription for ad-free content, but you can find movies on the free tier of both services.
There are also some unexpected video streaming services with movies. Discovery Plus has a limited number of original movies, as does ESPN and National Geographic. By signing up for add-on services like Starz or Showtime, you can watch blockbuster movies on platforms like Hulu.
For cord-cutters looking for the best movies, it's important to choose the right streaming service. Whether you have a Smart TV, Roku, Amazon Fire TV, Sling TV or an Android TV box, you don't need cable TV to find great movies, whether it's original content or theatrical releases.