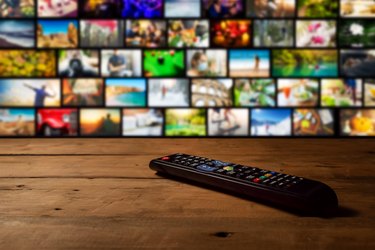 Cable TV is no longer the primary way consumers watch their favorite shows. But if you're one of the ​56 percent​ of remaining cable and satellite subscribers, live TV might be the one thing holding you back. The good news is that you can now enjoy all the features you get from cable or satellite in most top streaming apps, including the ability to watch shows as they air.
Best Live TV Streaming Services
At one time, streaming TV meant signing up for a service like Netflix or Hulu and binge-watching older series or exclusive content. But as cord-cutting has grown in popularity, networks like ABC, NBC and CBS have shown up on these popular apps, giving cable and satellite a run for its money.
With the right streaming service, you can not only watch network and cable channel-specific content, but you don't have to wait until it's already aired. Some streaming apps let you watch, in real time, TV shows, sporting events and local channels so you can catch the morning news and traffic. But there's a balance between affordability and channel offerings that you'll need to consider.
Most Affordable Live TV Streaming
Cord-cutters often look to save money, but some of the best streaming services really ratchet up the cost. If affordability is a consideration, look into an option like Xumo TV, which has a limited number of live options but is free. Another option is Pluto TV, which offers limited live programming and heavy advertising content at no charge.
A good compromise between content and affordability is Philo TV, which offers live and streamed content from top cable channels for ​$25​ per month. Sling TV is another affordable option, with packages starting at ​$35​ per month.
Switching to a streaming service can save you money, as long as you get the channel lineup you need.
Most Live TV Programming Options
For many streamers, the top priority is getting the programming they want. Sports fans want access to ESPN and other sports channels, while parents might be more concerned about having Nickelodeon and the Disney Channel. Consider the top streaming services offering live TV to help you narrow down your options.
​YouTube TV​: Consistently ranked as having among the largest selections of live TV options, YouTube TV is the best live TV for the price. You'll get the most popular channels, including PBS, Cartoon Network and all the major sports network channels. But the best thing about YouTube TV is the unlimited cloud DVR storage. Subscriptions start at ​$64.99​ per month.
​fuboTV​: Sports fans should consider this streaming network, which focuses on live sports. You'll get more than 100 channels and on-demand content for watching your favorite NBA, NHL and NFL games, with plans starting at $64.99 a month.
​Hulu + Live TV​: You'll get all the major networks, plus some uber-popular cable channels like Lifetime, Bravo, CNN, Fox, Comedy Central, MTV, TNT, HGTV and Discovery with this streaming option. The Live TV plan costs $69.99 a month.
​DirecTV Stream​: Some people simply like the experience of moving between channels. DirecTV offers a large number of live channels with plans starting at $69.99 a month.
Before you cancel your current TV providers, it's important to make sure you have what you need to stream. First, you'll need a really good internet connection if you don't want to deal with things freezing up. You'll also need to make sure your chosen provider carries all the TV channels you love. Don't forget to price premium add-on channels like Showtime, HBO Max and Starz.
You'll also need to make sure your TV supports streaming. If not, you'll have to purchase one of the many streaming devices on the market, which include Roku, Apple TV, Fire TV and Chromecast. If you normally take up hours of DVR space recording shows, make sure your chosen provider offers unlimited DVR for recordings.
Switching to a streaming service can save you money, as long as you get the channel lineup you need. If you have multiple family members watching at once, look for a service that allows simultaneous streams, and make sure you're covered for local channels, as well as regional sports networks, so you don't miss anything.