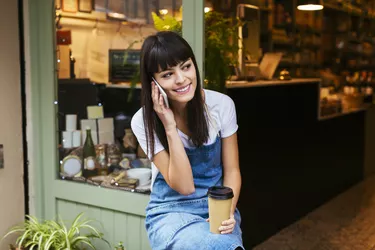 Phone service is an essential part of occupying a location, whether you're a family in a new home or a business leasing space in a downtown high-rise. At one time, that meant establishing landline service, but increasingly people simply need to ensure they'll get good cellphone reception in their location. To find a phone service provider near you, you can either check with the various major providers to see if landline-based telephone numbers are available in your area or look at a coverage map to find the best cellphone carrier.
Finding Local Phone Companies
Traditionally, when someone needed to set up a home phone line, it meant calling the local phone company. There was generally one that served an entire area. Today, though, even consumers who want a landline have multiple options, some of which are more reliable, and some of which are more affordable.
In the U.S., AT&T is the largest provider of landline service. That means that there's a good chance AT&T is one of your options, but it's only one. AT&T landline competitors include Verizon, Qwest, Vonage, Xfinity and Spectrum. You may be able to find other options through a simple Google search of "landline service in" your desired area.
Cellphone Service Providers
More than half of U.S. homes don't have a landline and operate solely on cellphones. Even if you do plan to have a dedicated telephone number at home, you'll likely need cellphone service, as well. If you're moving to a new area, even within the same general region of your state, it's important to research whether you'll get reliable service in that area.
One of the best ways to determine which cellphone companies service your area is by looking at a coverage map. You can find a map at webcoveragemap.rootmetrics.com that shows how well your current cellphone provider will work at any location, down to the specific street address. You can compare this to other service providers, like Verizon, AT&T, Sprint and T-Mobile.
If you have one of the major carriers and you live relatively close to a metropolitan area, you should have decent coverage. If you're with a specialized carrier, though, or you're moving to a more rural area, it will be well worth your while to contact your carrier and make sure you'll get coverage. If it's spotty, and you aren't interested in switching to another provider, a home phone may be a good option, even if it's only until your current cellphone contract runs out.
Bundling Service Providers
If you're in the market for internet and TV service, the best bet may be to bundle your services. Many internet and cable TV providers will provide a home phone as part of a package that includes your other services for free. Even if you don't need a landline normally, you may find you get the service for little to no extra cost, making it worth considering, especially if you have children who aren't ready for their own cellphone just yet.
Don't limit your search to phone companies and cable providers. Some satellite dish services have bundles that include a landline as part of your service. You should also check with your own cellphone service provider to see if they offer TV and internet packages. AT&T is one of the top internet providers in the country, and it now adds on DIRECTV as part of its bundle deal.
If you're moving from one area code to another, it might be worth taking a second to decide whether you want to change the telephone number on your existing cellphone. Your number will show up as out of town every time you make a local call, which could be an issue, especially if you're using it for business. A small inconvenience on the front end could save you years of frustration.