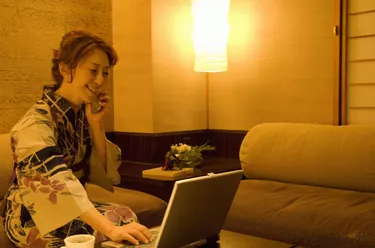 The list of to-do's when moving is huge, but it's important to put setting up or transferring utilities close to the top. Once you know your move-in date, contact utility companies and arrange to begin service at your new home. Don't forget to cancel your existing services and provide them with your new mailing address so you can get your final bill or deposit refund. To avoid additional hassle during your move, add the phone numbers for all utility companies to your cell phone contacts. This makes it easy to contact the utility companies during your move.
If You are a Renter
Ask your landlord or property manager about utilities and who pays for them. They can give you the names of utility companies, including cable and dish providers that can set up service in your house or building. Some landlords contract with a utility management company that bills you each month for all of your utilities as well as your rent. If this is the case, your landlord can tell you how to set up an account with this company before your move-in date.
If You are Buying a Home
Ask your real estate agent for a list of local utility companies. You'll set up some utilities, such as electricity, phone and gas, with individual utility companies. Services like garbage pick-up and water are often contracted through a local government office.
Visit Utility Company Websites
Many utility company websites include information on getting your service set-up. You may also be able to set up your new service online. When visiting a website, check for details on what information you'll need to get your account established and service up and running. For example, you may need your Social Security number, driver's license number or your previous account numbers. The site should also tell you when you should begin the process of transferring or establishing service. If you are moving to a home close to your current residence, your utility companies may remain the same allowing you to request a transfer of service, rather than having to establish a new account. When setting up an account with a cable or dish company, check local newspaper ads as well as the Internet for promotional deals for new accounts.
Set Up Appointments
If a technician must come to your home, make those appointments. Clarify with the utility company if someone needs to be home at the time of service installation. If you are in a multi-unit building, contact the building manager to clarify the procedure for turning on utilities. A utility company technician may need access to a locked area that can only be opened by the building manager or a maintenance person.
Ask About Deposits
Some utility companies require new customers to pay a refundable deposit. When setting up your service, ask about deposits and how to pay for them.Some utility companies add the deposit to your regular bill while others require a deposit that has to be paid before or on the day that your service begins.