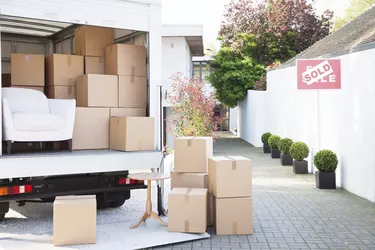 A new home in a new state can be exciting. But the move can be stressful and expensive. The details can get to you fast. Some long-distance moving details can be time-consuming, but some can cost you if you're not careful. Know the nuances of your long-distance move. Here are some moving tips to get you started before your moving date.
1. Beware of Real Estate Scams
If you're making a cross-country move, you may not know the area you're moving to. Buying a home is tricky when you make a long-distance move. Buying sight unseen is not unusual. Or you might even need to rent an apartment or house temporarily.
Some individuals take advantage of out-of-towners. Don't sign or send a deposit without investigating the company. Make sure you have a reputable real estate agent to advise you. A good realtor will know the areas to avoid and help you find a home that meets your needs.
2. Choose a Reputable Moving Company
If your move isn't "do-it-yourself" in a rental truck, you'll want to select professional movers. Movers, be they local or long-distance movers, should be able to supply you with references. Go online and look at reviews. How long have they been in business?
You'll want to get moving quotes but don't necessarily go with the least expensive. These are your belongings. You'll want to take care and move them safely and insured. Be suspicious if the moving company wants a large deposit. The standard deposit is no more than 20 percent.
Some long-distance moving detail can be time-consuming, but some can cost you if you're not careful.
3. Packing Tips for Big Move
The best choice is to avoid the hard work and use moving services to pack your household goods. But if budget constraints are an issue, you'll need to pack.
Make sure you have all the supplies ahead of time. You'll need sturdy, clean moving boxes and packing tape. Decluttering as you pack will save you time and money in the long run since you won't be paying to ship what you don't need to your new house.
Make sure to separate important documents like a birth certificate, marriage license and Social Security card. Put them in a safe container where they will be easy to find.
4. Notify Insurance Company
Your home insurance, car insurance and health insurance companies need to be notified. Some health insurance coverages don't cross state lines. You need to know if you'll have coverage in your new state.
Check your home insurance policy. Will you be able to get coverage in your new town? Insurance agents are licensed by state. You might need to change agents if you move to a new state.
5. Check New Home Cost of Living
If you have a new job, you'll want to make sure that your new salary can handle the cost of living in your new town. You can start by looking at real estate prices in your new state. Roughly 37 percent of your salary goes toward housing and utilities.
Know your new city ahead of time. If you're moving from Peoria, Illinois to New York, there will be a higher cost of living. You'll need to plan accordingly.
6. Changing Address and Driver's License
Contact the United States Postal Service to give a change of address. Then, contact any subscriptions you have and make sure they also have your new address. You'll have less hassle in the long run if you do this right away.
Make sure you go to your new city's Department of Motor Vehicles to get a new driver's license. Even if you are only moving across town, you'll need to change your driver's license to your new address.
7. Moving Pets Long-Distance
Your long-distance move may include pets. And unlike household goods that you can just put into storage, your furry friends will need to be accommodated.
Check your new city for veterinarians and kennels. These providers can care for your pets while you prepare your new home. It will give you the opportunity to have your furniture moved in without the fear of your pet escaping a new house.