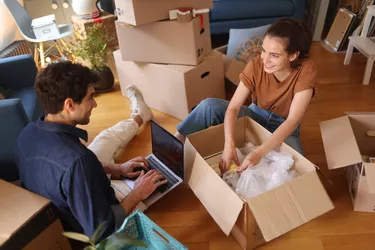 The moving experience can be stressful, especially if it's an interstate move. Whether you're moving to the next state or a cross-country move, you still must take the same steps to make the move stress-free. Stay organized and take the moving process one step at a time. Don't wait until the last minute to pack or hire cross-country movers. That way, you'll be ready by your move date while stress-free.
Start with planning how, where and when you want to move. Go into detail. It's easier if you break down the entire process into steps. Develop your timetable but make it flexible. This will make the whole endeavor less overwhelming.
Decide if you're going to DIY or hire moving services to help you. Try to choose the route that makes your move hassle-free.
Leave enough time for each step so you don't feel rushed. If you have a spouse or partner, divide up the duties. But remember to take a moment to enjoy the excitement of the move and don't let it stress you.
Depending on your type of move, professional movers can make your long-distance move pain free.
Set a budget and make sure you have padding for those extra expenses. Interstate moving is expensive. In 2020, the average long-distance move cost $4,890. This doesn't include your personal transportation costs or possible hotel stays. In comparison, local moves cost roughly $1,250.
If you have a contingency budget, it'll take the stress out of those unplanned costs.
Interstate Moving Companies
Once you've determined your budget, decide on what kind of moving services you'll need. An interstate move may take more than renting a moving truck, a van line may be the route to go.
Van lines provide full-service moving. They can take you from New York to California without a worry. They not only take care of the paperwork that goes with moving, but they insure your belongings. So you don't need to worry about your possessions being safe.
Most van lines are national companies and will give you moving quotes. Another way to get your moving estimate for comparison is to use a moving cost calculator. This will give you an idea of what to expect and help you plan when hiring long-distance movers.
There is some debate about whether to pack yourself or hire a packing service. Packing yourself saves money. You also have items organized the way you want. Privacy is also maintained.
But there are a lot of advantages to having a professional pack your household goods. First, there's time. It takes a lot of time and hard work to pack a house. A professional moving crew can usually pack in one day.
A moving service has years of experience with packing. They know how to pack delicate objects or large items properly. A moving service will insure what they have packed. That's not the case if you have packed it. And if they don't feel you have packed your items properly, they may ask you to redo them.
Most full-service moving companies charge by the room. For instance, a three-bedroom home will generally cost $900 with packing materials included.
Check Out Storage Options
Sometimes a new home isn't move-in ready. In that case, you may need to investigate storage services. If you're not familiar with the area, look for customer reviews regarding possible long-term storage facilities. Try to find a storage facility close to your new home. That will save you when you move your household goods again.
Depending on your type of move, professional movers can make your long-distance move pain-free. They can ship your treasured belongings to your new location safely. This will give you the opportunity to actually enjoy the move.