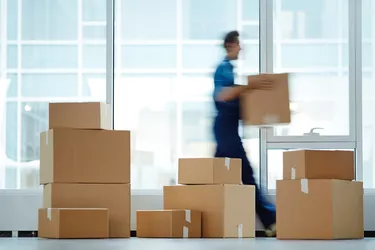 When you are planning a move to a new home, you want professional movers to take care of your belongings. Choosing the best movers can sometimes seem daunting. Don't let the stress of moving out pressure you into making a quick decision. Take the time to research and vet every local moving or interstate moving company you talk to.
1. Moving Costs in Writing
The moving process starts with getting estimates. Professional movers will be transparent with the quote they provide. The best moving companies will provide you with a non-binding estimate. This allows you to practice the rule of threes. That means contact three different companies to give you a quote on moving costs.
A red flag should go up if a moving company gives you an estimate over the phone. Movers will always send a representative to your home to determine the scope of the work.
An estimate should also have the moving dates clearly marked. Professional movers will provide you with an inventory list after packing your household goods.
Professional movers will also provide a bill of lading. This is a legally binding document. It works as a receipt that is proof of shipment and protects both you and the movers.
2. No Deposit Requirements
When hiring movers, a major red flag is if they require a deposit. It doesn't matter if it's a long-distance moving company or a local moving company; reputable movers will not require a deposit.
Take the time to research and vet every local moving or interstate moving company you talk to.
3. References and Good Customer Reviews
A reputable moving company will be able to provide references. Go online and check customer reviews. Be suspect if there aren't any available. Then, check with the Better Business Bureau (BBB) to see if the company is in good standing.
Even if a moving company isn't full-service, it should own trucks. The Federal Motor Carrier Safety Administration (FMCSA) warns that if a rental truck shows up on moving day, it's a major red flag that you are not dealing with a professional mover. Professional moving companies will own a fleet of trucks. Look to see if their name is on the truck before they start loading.
5. Verified Physical Address
There are a lot of scams in the moving industry. Ask for a business card with a physical address on it. But don't rely on just that. You'll want to double-check their address. Their website might not give you the correct address either.
Once more, contact the BBB to verify their address. And beware if the address is in a residential area. They may be working out of their home and renting trucks and temp workers.
6. Licensed and Certified
Ask to see their license. They must be licensed by the U.S. Department of Transportation (UDOT). Are they in good standing? Inquire about any moving industry trade organizations they belong to. The American Trucking Association American Moving and Storage Conference (AMSC) is one trade organization that shows professionalism. Look for it on your prospective movers' website.
7. Adequate Insurance Coverage
Ask moving companies to provide proof of insurance. But keep in mind, there are different levels of liability transferred to the moving company when they take possession of your household goods. That means there is different insurance.
Two different types of insurance should be offered to you. These are full value protection and released value protection.
Released value automatically comes with your moving cost, but you are not insured 100 percent. If there is a damaged item, you receive a partial payment based on pounds. If you want full value, it will be an additional cost. But it is comprehensive and gives you replacement value for any lost or damaged item.
Another option is to check with your homeowner's insurance company and see if there is any coverage available.