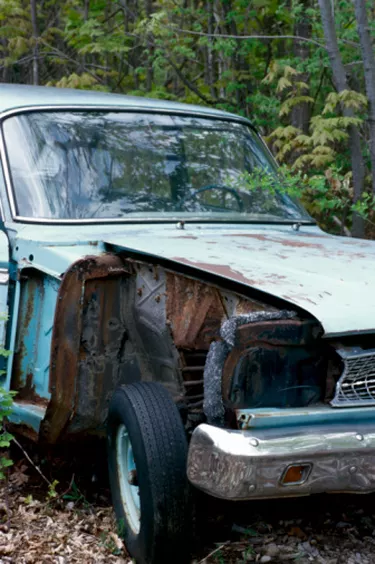 Many people see old, non-working or barely-running cars as worthless items. Old junked cars retain some value, however. Scrap yards pay cash for rusted-out junk cars. These businesses often crush and melt the car, then sell the metal to manufacturing or refining companies. Additionally, scrap yards may sell parts from old cars to independent buyers or auto repair shops. You can turn your old junk car into cash by selling it to a scrap yard in a few easy steps.
Step 1
Make a list of the damaged items on your car, including both external sheet metal and internal items such as the engine and/or transmission. Include minor damage such as dents, rust and corrosion, as well as major damage .
Step 2
Determine your car's Kelley Blue Book value by entering your car's make, model and year, as well as its mileage (if known), into the online calculator on the Blue Book web site. Enter your zip code, select "private party value" and choose "fair" condition to get your car's most accurate blue book value. If your car does not run, you can skip this step as Blue Book values do not apply to non-working cars.
Step 3
Call local salvage yards and vehicle recycling centers and ask if they currently accept old cars. Mention your car's list of damages, whether or not it is in operating condition and Blue Book value if it still runs. Cars that still run are worth far more than those that do not, so driving your working car to the salvage center will get you far more money than towing in an inoperative vehicle. Prices at salvage yards can vary widely, so contact yards both in your area and those within a reasonable distance.
Step 4
Select a yard at which to sell your car, and schedule an appointment to bring your car there for sale.
Step 5
Drive your car to the salvage yard you selected, or if your car is not running, tow it or have someone tow it to the yard.
Step 6
Present the list of damages and car's title to the associate at the salvage yard. Fill out the yard's required car sale forms, including a bill of sale. Accept payment for the vehicle. The salvage yard will handle the official title transfer.
Tip
Some salvage yards will tow your car from your home for free or a small fee.
Warning
Make sure you have title to the vehicle you wish to scrap. If not, get the title in your name. Scrap and salvage lots are not allowed to purchase a vehicle from someone unless that person has the title.
Things You'll Need
Towing-capable vehicle

Car title in your name