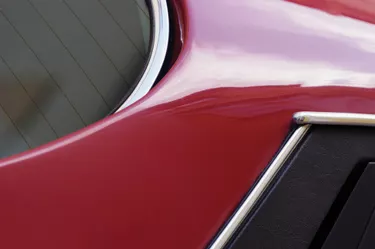 The largest number of auto body painters work in repair shops, where they refinish older or damaged vehicles. Others manage automated painting processes in new vehicle manufacturing or touch up flaws. Most auto body painters make at least $31,000 annually as of 2010, but some earn more than twice that amount.
Job Description
Painters of transportation equipment who work in repair shops mix paint to match colors that may have faded over time, and perform detailed work with a manual spray gun. These are highly skilled workers, according to the U.S. Bureau of Labor Statistics. Painters who work on new cars operate equipment that performs automated steps, or they fix problem areas in the paint that occurred during automated painting or vehicle assembly.
Salary Range
The U.S. Bureau of Labor Statistics combines salary data for painters of automobiles, airplanes, boats, buses, trains and trucks, noting this includes painters in auto body shops. The average salary for this occupation was $20.27 per hour as of May 2010, or $42,160 per year. The middle 50 percent of these workers were making $14.91 to $24.92 per hour, or $31,010 to $51,830 per year. The bottom 10 percent had hourly wages at or below $11.88, and the top 10 percent were earning $30.82 and more per hour, or $64,110 per year and higher.
Common Types of Employment
Vehicle body painters working in automotive repair and maintenance earned $20.58 per hour on average in 2010, or $42,810 per year. Others find employment with motor vehicle body and trailer manufacturers at an average pay rate of $36,630 annually, with automobile dealers at $44,760 and with automotive parts, accessories and tire stores at $47,150.
High-Paying Industries
The highest pay for auto body painters was in spectator sports employment, which includes car racing. The average salary in that industry for auto body painters was $30.40 per hour, or $63,240 per year in 2010. Employment opportunities are extremely limited in this field; only about 40 auto body painters worked in spectator sports in 2010. The next-highest paying industry is motor vehicle manufacturing, where the painters earned $23.42 per hour on average, or $48,720 per year.