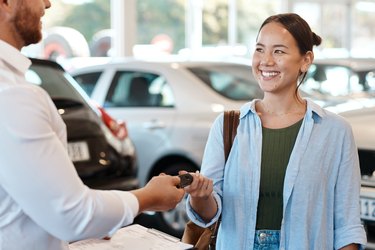 How much money does a car dealer owner make? That's an interesting question, and there is no single number that applies to all of them. Dealerships vary by location and size, and some are much more successful than others. In addition to that, you have new and used car dealers and new dealers that also sell used vehicles. When considering how much a car dealership owner makes, it's also essential to consider the initial investment and overhead costs.
How Much Does a Car Dealership Cost?
The experts at FindLaw list the basic steps of opening up a new car dealership and recommend conducting research on the National Automobile Dealers Association website. You will have to decide if you want to sell new or used cars and scout out different locations. New dealerships are almost always part of franchises, with automobiles getting purchased from manufacturers and then resold. With used cars, owners obtain the cars from private sellers, auctions, trade-ins, fleets and other sources.
On average, it costs around ​$11 million​ to open up a car dealership, but used dealerships cost significantly less because there aren't any franchising fees to worry about. That considerable number includes purchasing the land, construction costs, property taxes and insurance; many save money by leasing the buildings instead. Besides that, there are costs to register the business, obtaining a motor vehicle dealer bond and franchise fees for new car dealers. Dealerships also cost millions of dollars to run each year; other expenses include purchasing new inventory and marketing, both of which cost a considerable amount.
Salaries at Car Dealerships
In general, most auto dealerships have several different departments, such as sales, finance and service. Sales managers lead the sales teams, manage sales quotas and goals, set up work schedules and work closely with dealership owners if they don't own the dealerships themselves. Most have years of sales experience under their belts and excellent negotiating, time management and math skills. The experts at PayScale write that these individuals earn anywhere from ​$31,000​ to ​$130,000​ a year, with a median pay of ​$67,000​.
In most cases, car dealer owners get a cut of the profits that their dealerships make, and in some cases this amount can be hefty. The average gross profit for a new car is around ​$2,000​ and around ​$2,300​ for a used one. Dealerships that sell used and new cars can benefit from that more significant profit margin for pre-owned cars. The final salaries depend on overhead costs, inventory purchase prices, how many vehicles are sold, profit margins and other costs that go into selling the vehicles.
A Car Dealership CEO Salary
The U.S. Bureau of Labor Statistics experts share a chart that shows salaries for people working at auto dealerships. According to their data, an average car dealership CEO salary is around ​$213,700​ a year and general and operations managers earn about ​$139,070​. Auto dealership sales managers make ​$132,980​ on average. A car dealership owner net worth could be even higher, depending on how successful they are and if they have other business interests.
These salaries are pretty impressive, and often partners own car dealerships. Owning can provide significant financial rewards, but there are ups and downs like any other business. The car industry is still reeling from the pandemic, which first impacted sales because people stopped driving when they were isolated. Now, supply chain issues are still causing problems, but things will turn around again at some point. Who knows just how much money car dealership owners will be earning when things are back in the black?