Repossessed cars can be a big bargain for the savvy shopper, as they often sell below the Kelley Blue Book or NADA Guides values. The caveat is the risk associated with these cars, since they're often sold as-is and rarely offer you the opportunity to take a test drive before buying. Whether you're buying direct from the lender, going to an auction or visiting a reseller or dealer, get as much information about the vehicle as you can before agreeing to the purchase.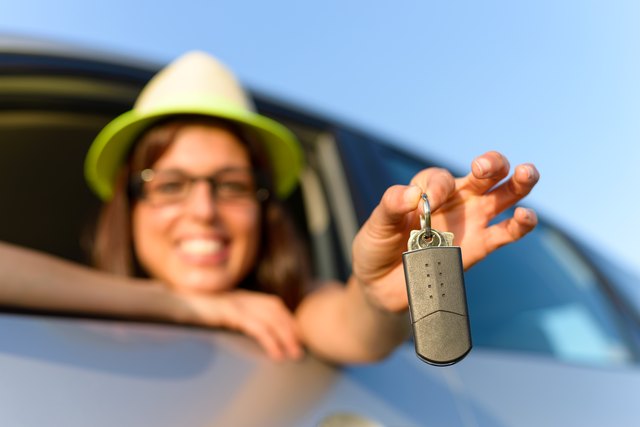 credit: Dirima/iStock/GettyImages
Direct From the Lender
Some lenders allow you access to their lists of repossessed cars and let you bid on the one you want. You might be able to finance through the same lender, complete all the paperwork in one fell swoop and avoid paying commission or other costs associated with a traditional sale. The downside is that this can take several weeks from receiving the initial list to completing the sale, and lenders aren't always incentivized to inspect and repair the vehicle as much as they are to get it off their books. You also might have a harder time physically inspecting the car yourself until just before the sale is finalized.
Car Auctions
Lenders or police agencies may sell repossessed cars at auction. As with other repossessed vehicle sales, the cars are sold as-is. Auctions can take place at a physical location or online. You can generally look at the vehicles before the auction starts but not take a test drive. Though you sometimes can get financing, the general expectation is that you have cash at the ready to complete your purchase. Check with the auction host beforehand to avoid unpleasant surprises.
Go to the Dealership
Some used car dealers also sell repossessed cars, particularly if the vehicles were originally purchased there. Other dealers purchase repossessed vehicles at auction and resell them to customers. This is your best chance of getting a car with at least a limited warranty, particularly if the dealership has an established car repair shop associated with it. It's also the most expensive way of buying a repossessed car, since the infrastructure of a car dealership, and the need to pay its sales force, means a higher markup.
Reseller Services
Repo reseller services acquire repossessed vehicles and sell them, often listing them online. They may inspect and detail the vehicles before the sale. In general, they want to get rid of the vehicles as soon as possible, serving as a conduit between the original lender and the eventual buyer, often without taking ownership.
Risky Business
Buying a repossessed car is a risk. The original owner may have been months behind on payments, and it's unlikely that a vehicle owner who couldn't afford the loan was being scrupulous about vehicle maintenance. Some trash the car before allowing it to be taken. Repossessed vehicles often are sold without a warranty, so any problems discovered later are yours alone to handle.