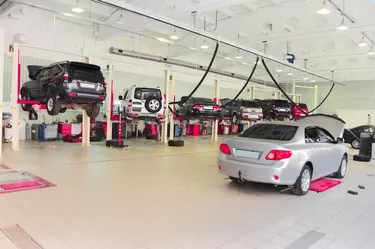 Garage ownership is a dream job for many people. Not only do you get to work with cars but you're your own boss and set your own hours. The average salary for shop owners was just over ​$65,000​ in 2022. However, there is a wide variation depending on the size and location of the mechanic shop.
An automotive repair shop owner is responsible for the day-to-day operations of their business. This includes hiring and managing staff, ordering parts and supplies, dealing with customers and keeping business records. They must also be able to troubleshoot mechanical problems and have a working knowledge of cars.
Most automotive garages are small, family-run businesses. Here, the mechanic shop owner will be hands-on and do much of the technical work themself. They may hire a few employees to help with the workload and shop management. However, there are some large-chain garages that are part of a national franchise. The size of the garage will affect the owner's salary.
No formal education requirements are needed to run an auto repair shop, but most auto mechanics have at least a high school diploma. Many garage owners start out as mechanics and learn the business side of running a garage through experience.
The average salary of an owner of an automotive garage was ​$65,350​ in 2022, reports Climbtheladder. Most earn between ​$45,380​ and ​$113,643​. By comparison, automotive service technicians earned a median salary of ​$46,880​ in May 2021, reports the U.S. Bureau of Labor Statistics. The equivalent hourly wage is ​$22.54.​
Industry and Work Environment
Automotive garages provide services to keep cars running smoothly. Besides repair and auto parts replacement, garages could offer any number of services, from car washes and oil changes to dealership services. Many auto repair businesses and auto body shops are open long hours and on weekends to accommodate customers with busy schedules.
Auto repair shop owners generally work full-time or longer hours, especially when their small business is first getting off the ground. Once the business is established, they may be able to delegate some of the work to managers and senior technicians. However, labor costs will eat into the shop's profit margins.
Job Mobility and Career Growth
The salary of a garage owner does not tend to rise with time and years of experience as it would for those technicians who are employed by car repair shops. That's because the garage owner will generally take a percentage of the profits as their salary. They may be able to increase their earnings by expanding their business or opening new locations to generate more revenue. Some ambitious garage owners eventually become regional or national chains.
Garage owners in large cities or with multiple locations tend to make more money than those who own smaller businesses in rural areas. For example, garage owners in San Francisco made an average annual salary of ​$90,325​ in 2022 compared to ​$57,381​ in New Orleans.
The U.S. Bureau of Labor Statistics does not provide data specifically for automotive business owners. However, the number of jobs for all service technicians in the car repair industry is expected to stay roughly the same from 2020 to 2030. The growing popularity of alternative-fuel vehicles may lead to more job opportunities since these vehicles require more specialist skills to diagnose and repair problems than traditional gasoline-powered vehicles.