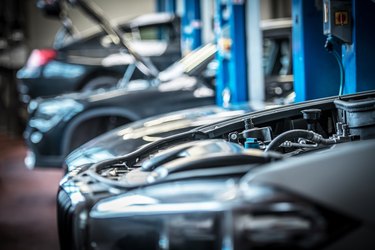 If you love to work on cars and trucks, owning an automotive garage might be the right business for you – with one warning. Running a business requires lots of paperwork, so you'll need to be comfortable dealing with accounting, ordering supplies, handling marketing, overseeing staff and performing other general business activities.
You can hire a business manager to handle these tasks, but that will cut into your profits. Understanding what goes into running an auto garage and what kind of money owners make will help you decide if this business venture is right for you.
What you'll earn as a garage owner will depend largely on what type of services you offer. You might buy or lease a franchise for an oil change, muffler or brake business. You might run a full-service auto repair shop, either as an independent or as a franchise owner. You can specialize in certain types of vehicles, such as high-end sports cars, trucks or Japanese or German autos.
Some garages offer waiting rooms with a TV, snacks and free wireless internet, while others require customers to drop off their keys at the front desk and come back later. You might sell auto parts at your garage, do bodywork or offer repair services only.
Getting Started as a Tech
You don't need to know anything about changing spark plugs or fixing a transmission to own an auto garage if you hire the right technicians. However, knowing how to fix cars can help you start with a lower investment (in labor) and keep more of your income for yourself.
With more and more Baby Boomer mechanics retiring as cars become more technologically advanced, you would think the demand for techs would increase, but the BLS forecasts a 4 percent decrease in demand for these positions through 2029.
However, others in the profession hold the opposite view. In February 2020, for example, the Universal Technical Institute cited a potential shortage of 45,000 techs in the coming years, while a September 2020 article in Repair Driven News announced the shortage of techs was continuing to worsen.
Mechanic Shop Owner Salary
Based on the many different business models available to garage shop owners, the regions where they are located and the competition in their area, it's impossible to find accurate national averages for mechanic shop owner salary. However, using salary aggregator websites, you can find up-to-date salary numbers for your area.
For example, in June 2021, ZipRecruiter gave an annual salary for an auto repair owner of ​$50,690​. For an auto repair owner in Marietta, Georgia, at that same time, the average salary was ​$47,671​.
You can start your own garage as an independent, bearing all of the costs of leasing/buying your location, marketing, staffing, equipping the garage and other expenses. With this model, you take all the risks and run all aspects of the business, but you keep all the profits. General Steel Buildings provides a list of startup costs for opening a small auto repair garage, projecting an initial investment of ​$50,000​.
If you choose to go the franchise route, your investment might be limited to a franchise fee, a share of the profits to the franchisor and your time and effort. The company you work for provides the location, equipment and marketing support, but takes a hefty chunk of the income.