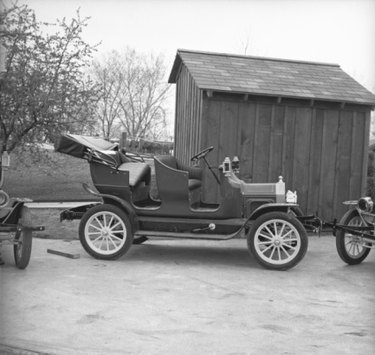 Ford Motor Company, headquartered in Dearborn, Michigan is a giant in the automotive industry. Based on 2010 sales volume, Ford is the second largest automotive manufacturer in the United States and the fifth largest in the world. Within the United States, over 1,400 Ford automotive service departments employ the skills of Ford master mechanics to service, maintain and repair their automotive and truck products.
Job Description
A Ford master mechanic is trained to identify and repair all problems that may occur in vehicles that use gasoline, diesel, electric or alternative fuels. Extensive analytical and technical skills are required. Master mechanics are trained in the operation of welding equipment, air wrenches, lathes, grinding machines, hydraulic hoists, engine analyzers and other diagnostic equipment are commonly used in automotive repair.
Education And Experience
Individuals that wish to pursue a career as a master mechanic may attend community college or a vocational trade school that offers a diploma, associates degree or certification as a mechanic. Mechanics with the required education, experience and skills are eligible for certification offered by the National Institute for Automotive Service Excellence. The Ford Motor Company encourages continued education through company sponsored training seminars. Senior master technicians have received the highest level of recognition a master mechanic can achieve. The Ford senior masters program acknowledges Lincoln, Mercury and Ford dealership technicians that have completed and successfully mastered courses in eleven specialties.
Qualifications
Automotive mechanics must diagnose the source of a mechanical problem quickly and accurately. A through knowledge of auto mechanics and a strong analytical ability are important characteristics of a Ford master mechanic. Reading, mathematics and computer skills are required to study technical manuals and constantly changing automotive components.
Ford Master Mechanic Income And Benefits
The United States Department of Labor, Bureau of Labor Statistic, Employment Opportunity Handbook, 2010-11 Edition states "Median hourly wages of automotive service technicians and mechanics, including commission, were $16.88 in May 2008. The middle 50 percent earned between $12.44 and $22.64 per hour. The lowest 10 percent earned less than $9.56, and the highest 10 percent earned more than $28.71 per hour." AMS Automotive Schools states that in 2011, the median annual salary of master mechanic is $60,000 to $100,000. Master mechanics employed by Ford dealerships also receive an array of benefits including medical coverage, 401k plans, vehicle purchase plans, paid vacations, discount vehicle financing, personal computer purchase programs and performance incentive program compensation.