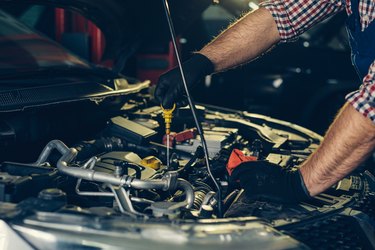 Ford Motor Company, headquartered in Dearborn, Michigan is a giant in the automotive industry. As of publication, Ford is the second largest automotive manufacturer in the United States and the fifth largest in the world. Ford automotive service departments throughout the country employ the skills of Ford master mechanics to service, maintain and repair their automotive and truck products. In addition, independent auto shops may employ Ford master mechanics so as to better serve their customers and set themselves apart from other businesses.
Ford Master Mechanic Job Description
A Ford master mechanic is trained to identify and repair all problems that may occur in vehicles that use gasoline, diesel, electric or alternative fuels. Extensive analytical and technical skills are required. They are, of course, specialists in vehicles manufactured by Ford.
This does not necessarily mean that they cannot work on vehicles made by other companies, however. Master mechanics are often specialists in one manufacturer's vehicles, but quite adept at working on most any vehicle. The depth of their knowledge is typically quite extensive given their training.
Master mechanics are trained at Ford mechanic school in the operation of welding equipment, air wrenches, lathes, grinding machines, hydraulic hoists, engine analyzers and other diagnostic equipment are commonly used in automotive repair.
Individuals that wish to pursue a career as a master mechanic may attend community college or a vocational trade school that offers a diploma, associates degree or certification as a mechanic. Mechanics with the required education, experience and skills are eligible for certification offered by the National Institute for Automotive Service Excellence.
The Ford Motor Company encourages continued education through company sponsored training seminars. Senior master technicians have received the highest level of recognition a master mechanic can achieve. The Ford Senior Masters program acknowledges Lincoln and Ford dealership technicians that have completed and successfully mastered courses in eleven specialties.
From there, master mechanics may work for Ford directly or for an automotive shop. With their master mechanic designation, they will likely be more sought-after than a novice mechanic, and their income potential may thus be greater. This is particularly with years of experience as a master mechanic.
Qualifications for Ford Master Mechanics
Automotive mechanics must diagnose the source of a mechanical problem quickly and accurately. A through knowledge of auto mechanics and a strong analytical ability are important characteristics of a Ford master mechanic.
Reading, mathematics and computer skills are required to study technical manuals and constantly changing automotive components. Customer service skills may also be important for a Ford master service technician. Sometimes, master mechanics may need to explain required repairs to a customer. They also may be tasked with helping entry-level or less-experienced technicians with specific tasks, so the ability to work well as a member of a team is also important.
Ford Master Mechanic Income And Benefits
Keep in mind that these are general wages for mechanics. The income of a Ford master mechanic may be higher. According to Glassdoor, this salary could be ​$67,418​ per year.
Master mechanics employed by Ford dealerships also receive an array of benefits including medical coverage, 401k plans, vehicle purchase plans, paid vacations, discount vehicle financing, personal computer purchase programs and performance incentive program compensation.