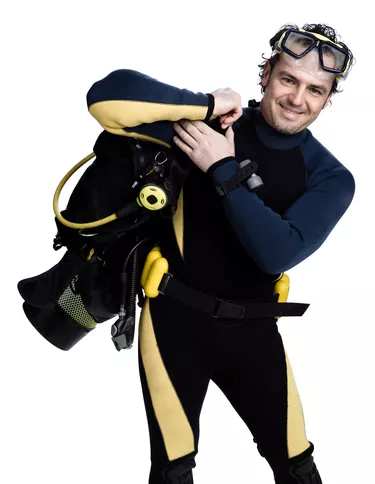 Underwater welders combine two exciting and lucrative careers, welding and diving. Welders-divers enjoy a challenging profession with a wide diversity of assignments in locations around the world. Many underwater welders work for the oil and gas industry, installing offshore drilling platforms, capping oil or gas wells or installing high-pressure pipelines. The ever-evolving and rapidly expanding petroleum industry has created a large demand for experienced, certified underwater welders.
Income
The United States Department of Labor, Bureau of Labor Statistics reports the median wages of welders, solderers, cutters and brazers were $16.13 per hour in May 2008. The middle 50 percent earned between $13.20 and $19.61 per hour. Wage earners in the lowest 10 percent earned less than $10.85 per hour. Those in the top 10 percent earned more than $24.38 per hour. Underwater welders are some of the most skilled and highly trained workers in the welding industry. Welder-divers are commonly paid on a project basis, rather than an hourly wage. The American Welding Society reports that salaries for welder-divers range from $100,000 to $200,000 per year. Income is dependent on the depth of the dive, dive equipment, methods, procedures and geographical location.
Qualifications
An underwater welder is licensed, commercial diver and a certified welder. Qualifications for welder-diver employment vary by project. A welder-diver manages weld set up and preparation and welds metals together in accordance with the American Welding Society D3.6M, Underwater Welding Code. The welder-diver must be able to weld materials, wet or dry and conduct tests and other welding related activities. An underwater welder must be in excellent physical condition, able to pass medical tests required for certification. An underwater welder should be strong swimmer, able to manipulate tanks and welding equipment at the weld site. Applicants should possess the skills required for underwater welding including fitting, cutting, rigging, inspection and testing. Applicants with photography skills receive some preference. An underwater welder should have excellent communication skills, both written and oral, to assist the contractor in job planning and implementation. Ideally, the candidate is educated and experienced in cutting, cleaning and fitting the section they will weld.
Training And Experience
Individuals wishing to pursue a career path as a commercial underwater welder, take classes at special diving schools recommended by the Association of Diving Contractors Consensus Standards for Commercial Diving Operations. Commercial divers are trained in both scuba, hard-hat and helmet diving. Many divers gain experience in both welding and diving while serving in the military.
Employment Opportunity Outlook
Employment opportunities for underwater welders will vary dependent on the applicant's skill level and prior experience. Welder-divers that participate in continuing education to stay abreast of advancing technology receive preference in hiring and the best salaries.