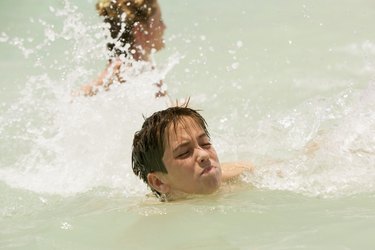 Survival instructors teach skills that save lives and develop character. If you are passionate about the outdoors and seek a career that is mentally, physically and technically challenging, a career as a survival instructor offers life-time learning experiences and new challenges daily. The salary is dependent on your location, employer (whether the position is a civilian or military job), and the level of responsibility, education, experience, skills and abilities of the applicant.
Basic Survival Instructors
Survival instructors are vocational teachers, and they come in many forms. Some instructors teach basic first-aid and wilderness skills at youth summer camps. Other instructors teach short-term courses for extreme sports participants, hunters, fishermen, pilots, boaters and whitewater rafters. Courses include risk assessment, hazard recognition, compass and map navigation, fire-building, water and food procurement, outdoor living skills, firearms-safety, bear awareness, and defense, search and rescue techniques. These types of instructors can have salaried positions or be self-employed service contractors. The U.S. Department of Labor, Bureau of Labor Statistics reports that salaried vocational education teachers in secondary schools earned an annual median wage of $51,580, as of May 2008. The middle 50 percent earned between $42,110 and $64,120. The lowest 10 percent received less than $34,980 and the highest 10 percent earned more than $77,950.
Survival Instructors
Some survival instructors are employed by civilian industries with operations in areas of extreme danger. Mining, construction, oil and gas exploration, and defense companies, law enforcement agencies and private security companies engage survival instructors to train personnel working in war zones, areas of political strife, or hostile terrain and climate conditions. Survival training instructors teach survival techniques for a diverse array of conditions including high angle industrial tower rescue, industrial and remote first-aid, urban, polar, desert and jungle survival, lifeboat/life raft training, search and rescue, disaster response, long-term survival supply acquisition and home defense. Survival instructors specializing in civilian urban and wilderness survival often come from military or law enforcement. They might be employed in salaried jobs, work as independent consultants or operate their own private survival school. BLS reports that technical consulting services is one of the highest paying industries. Salary workers in the industry averaged $913 a week in 2008. In 2008, general and operations managers of technical consulting firms earned a median hourly wage of $62.69.
Military Survival Instructors
Instructors assigned to the U.S. Air Force Survival School teach seven separate courses to about 6,500 students each year. Survival, evasion, resistance and escape (SERE) instructors are highly experienced people who train Department of Defense personnel in SERE survival techniques. SERE instructors are members of the military that have receive specialized survival instructor training. Survival instructors employed by the U.S. military teach signalling and rescue techniques, escape and evasion, prisoner of war resistance techniques, sniper fieldcraft, combat and pursuit tracking, and off-grid medical care. Annual income is based on time in service and time in grade. Benefit packages include tax free housing, comprehensive dental, vision and medical care, food allowances and an excellent military retirement program.
Employment Opportunity Outlook
Many individuals are taking personal responsibility to train and equip themselves with the life skills to survive in a hostile world. As more people seek training and attend survival training classes or schools, the demand for survival instructors will continue.